Popular Payment Methods
LocalCoinSwap allows users to buy and sell bitcoin, ethereum, tether, and other popular cryptocurrencies using a huge variety of payment methods. Most users are trading with people in their own country or region due to the ease of using a local bank transfer, but a rise in international payment methods like PayPal, TransferWise, Skrill, Western Union, Gift cards, Cash App, Zelle Pay, QIWI and more are buying and selling with people worldwide.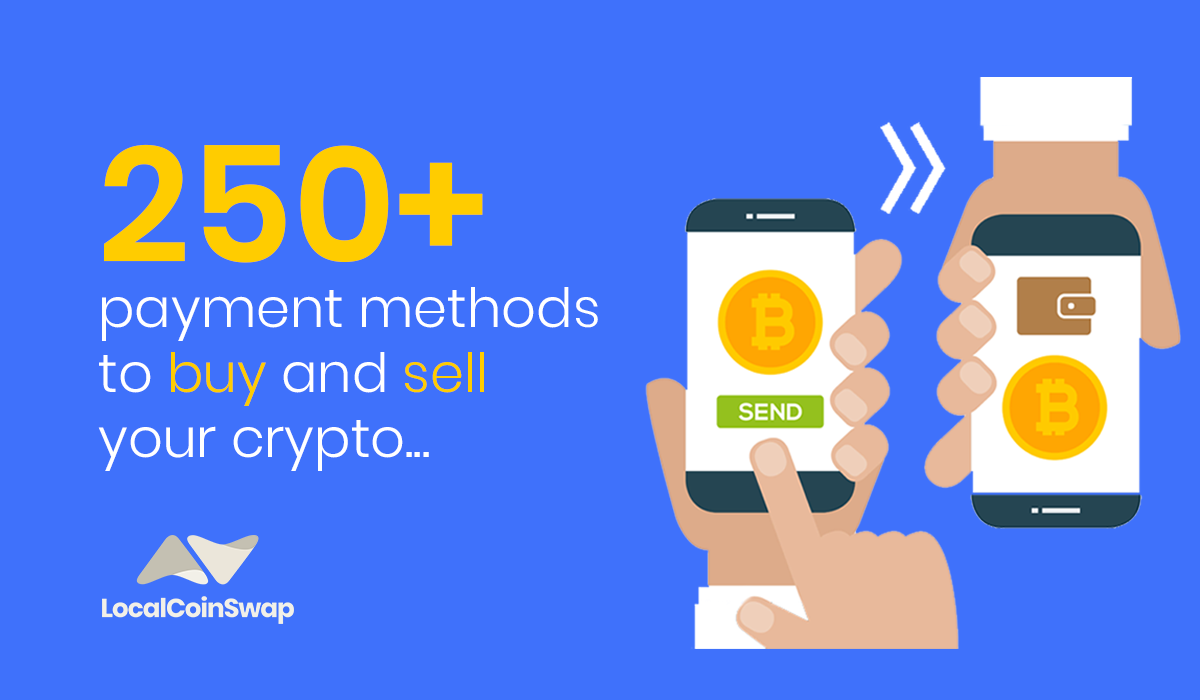 Popular non-region-specific payment methods

Regular Bank transfer
Much like sending money to a friend for your share in a taxi ride, you can send money to someone in the same country as you in order to buy bitcoin using bank transfer.
Cash Deposit
Many ATMs now allow users to deposit cash into their accounts 24/7 without visiting a bank. You can buy bitcoin with cash deposit on LocalCoinSwap for a much cheaper price than using a regular Bitcoin ATM. A quick search for Bitcoin ATM near me will show that there are generally thousands of closer regular ATMs nearby that you could use to buy and sell cryptocurrency on LocalCoinswap.
Alternatively, you can generally deposit cash at most local bank branches instead of an ATM
Cash in person
Prefer cold hard cash? You can now buy or sell bitcoin for cash nearby on LocalCoinSwap. LocalCoinSwap provides a secure escrow system to ensure the cryptocurrency is secure when trading. When trading face to face, it is always recommended to meet in a well lit secure location with security cameras (banks, post office, shopping centers, etc.). This way it is much safer for both parties.
---
International Payment methods
TransferWise
You can buy bitcoin with TransferWise on LocalCoinSwap (and many other cryptocurrencies too). Transferwise is a great tool as it allows you to essentially pay people in many countries with the equivalent of a local bank transfer.
PayPal
LocalCoinSwap allows users to buy crypto with PayPal (and sell too). PayPal is widely used across international borders.
International wire (SWIFT)
For many years, SWIFT has been the "standard" of international transfers. You can buy bitcoin and other cryptos with SWIFT on LocalCoinSwap from other users worldwide.
SEPA
Buy bitcoin, ethereum, Tether and more with SEPA. This payment method allows users to easily transact Euros between all the different Euro using countries.
Revolut
LocalCoinSwap enables users to buy or sell cryptocurrency with Revolut from users in a wide variety of countries.
---
Popular region-specific payment methods
Paytm
Paytm is a payment system widely uses in India. You can buy bitcoin with Paytm as well as many other cryptocurrencies.
M-Pesa
Buy bitcoin, ethereum and more with M-Pesa. This payment method is widely used across Kenya, Tanzania, India, Lesotho, DRC, Ghana, Mozambique, Egypt and allows users to transfer money using SMS.
WeChat Pay
Using WeChat pay, you can buy cryptocurrencies on LocalCoinSwap. WeChat pay is very popular in China but available to people all over the world.
AliPay
Alipay is another payment provider popularised in China but available elsewhere. You can buy bitcoin with AliPay on LocalCoinSwap.
QIWI
Buying bitcoin and other cryptocurrencies with Qiwi is easy on LocalCoinSwap. Qiwi is a Russian payment provider that operates through Russia, Ukraine, Kazakhstan, Moldova, Belarus, Romania, the United States, and the United Arab Emirates.
IMPS
IMPS is the Immediate Payment Service and is an instant interbank payment system used in India. Although the financial authorities in India have imposed regulations on the purchase or sale of cryptocurrency, it is still popular for users to buy bitcoin with IPMS on LocalCoinSwap.