This is a quick guide to sell Dai, USDC, USDT, NEXO, or other ERC20 tokens listed on LocalCoinSwap.
Let's get started...
Table of Contents:
Register or Log into your account
Search for Offers
Open a Trade
Fund Escrow and Provide Payment Details
Mark Payment Received
STEP 1: Register or Log in to your account
Registering an account on LocalCoinSwap is quick and easy. You just need a valid email address. Once you register an account, you will be provided with secure wallets for all the cryptocurrencies tradable on the platform. The wallets used for ERC20 tokens are also non-custodial, this ensures that only you control the funds inside them. If you already have a LocalCoinSwap account, you can login to get started.
STEP 2: Search for Offers
Head over to LocalCoinSwap and use the search filters at the top of the page to see what advertisements for your chosen crypto are available. For this example, we will be selling Tether for USD. You can search via buy/sell, cryptocurrency, fiat currency, payment method, location, or a combination of each. Next, choose a sell offer that suits your trading terms and tap the "Sell" button to view the offer in more detail.

STEP 3: Open a Trade
On the full offer page you will see more details such as price, trade limits, seller statistics, and terms and conditions of trade. If you are happy with the trade conditions, enter the amount that you want to sell in either fiat or cryptocurrency and tap the "Sell Tether" button.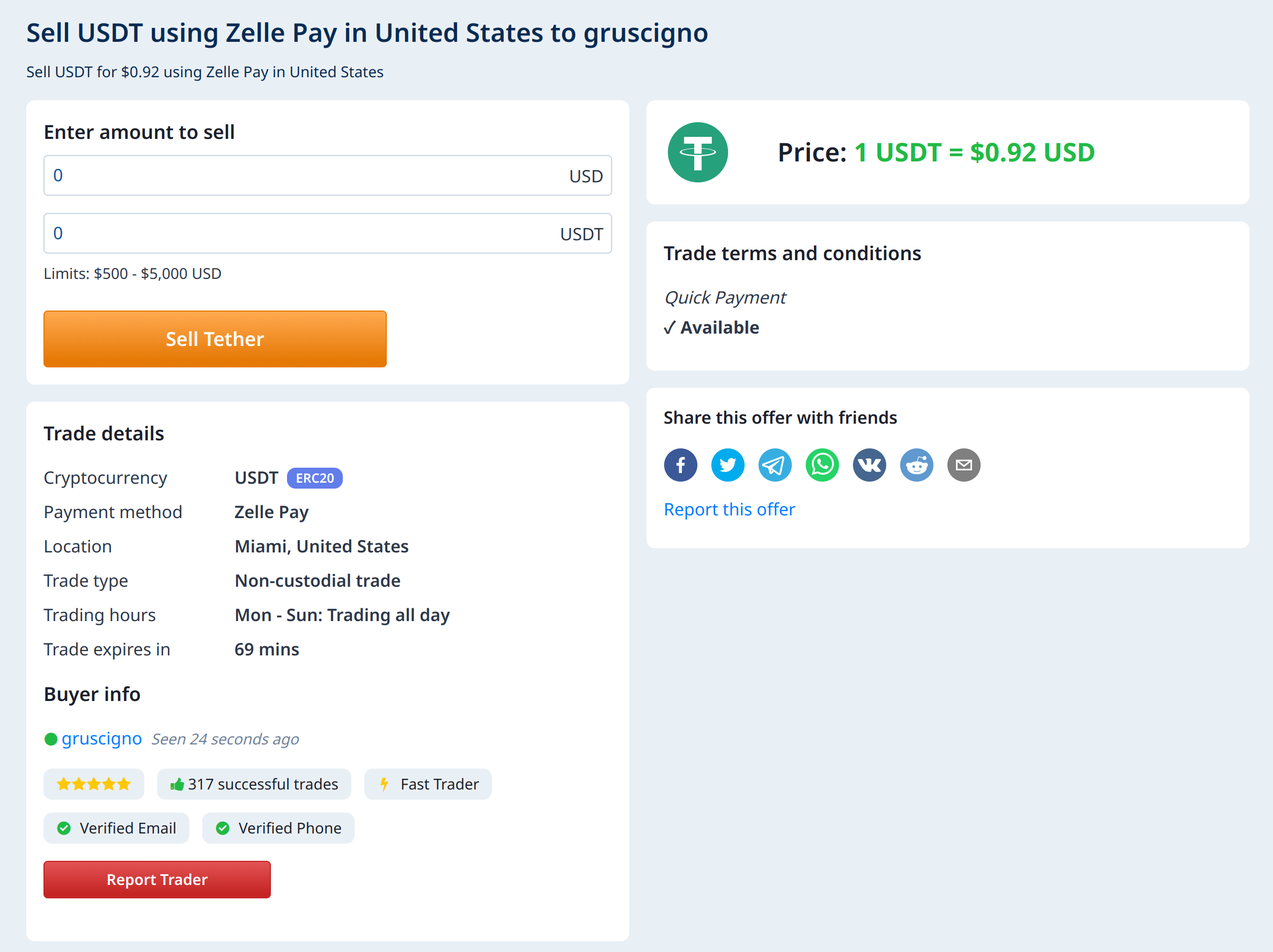 Next, select the wallet that you want to sell Tether from. You can use your LocalCoinSwap platform wallet or you can sell directly from your MetaMask wallet. Your Tether will need to be held in the wallet selected, as well as a small amount of ETH to pay the blockchain transaction fees. The exact amount of ETH required will vary depending on network conditions/congestion.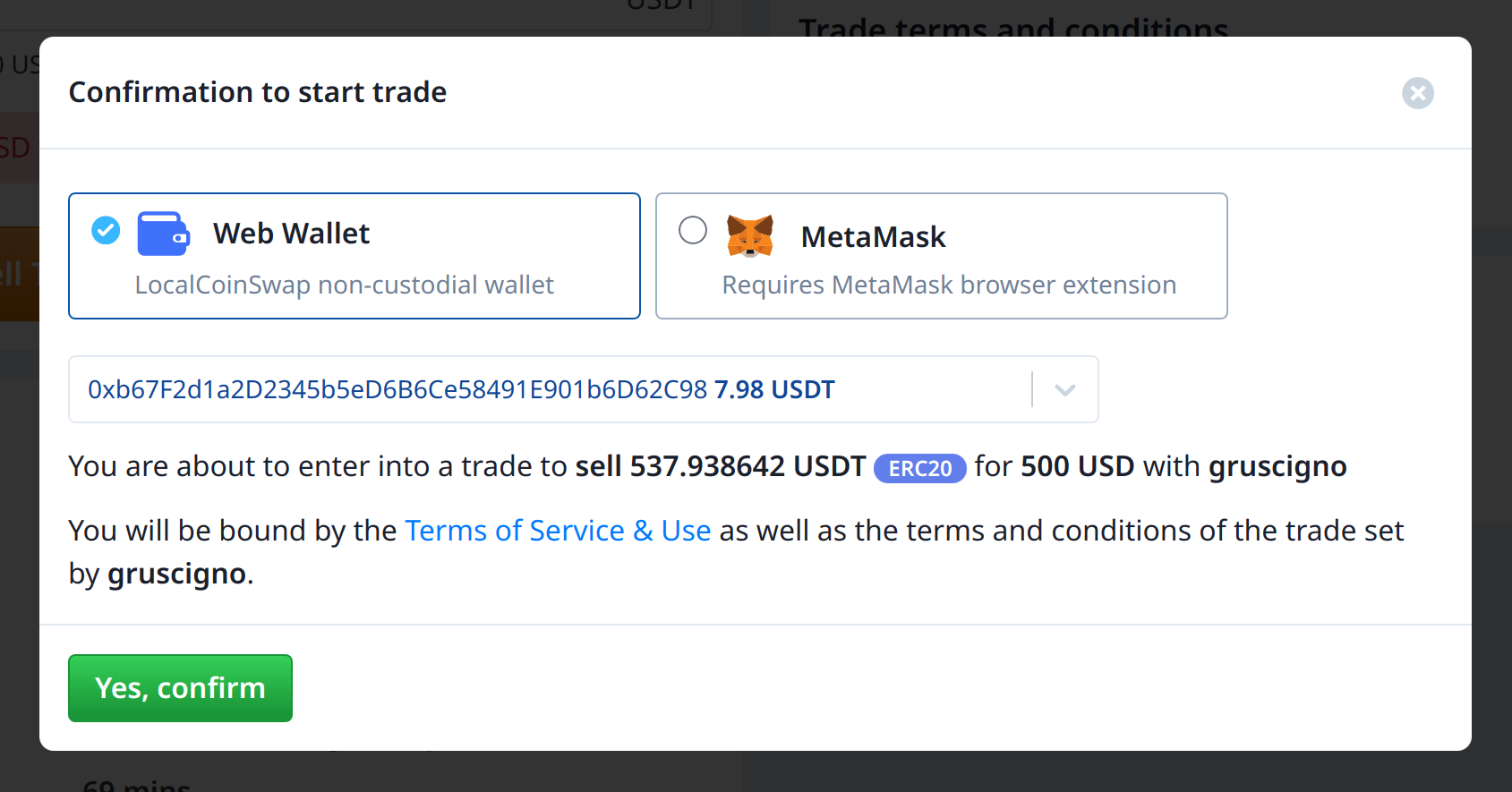 The buyer will now receive a notification that you want to sell them Tether and should then accept your trade.
STEP 4: Fund Escrow and Request Payment
Once you receive notification that the buyer has accepted your trade you need to Approve the ERC20 trade, and then escrow the Tether. The process is largely automated for you and just involves approving a transaction at most.
Once the escrow has been funded with your ERC20 tokens, this is where the trade really starts. You should never consider a trade to be in progress until the escrow is secured, prior to that you should never accept or request payments, or if you're on the other side of the trade you should never send payment prior to escrow being funded and confirmed.
Next you tell the buyer where to send the payment. This could be your bank details, email address or something else depending on the agreed payment method.
STEP 5: Mark Payment as Received
During this period, your Tether is being held in a secure escrow smart contract. If there are any issues with the payment, you can click the "raise dispute" button and a dispute resolution manager will join the trade to assist. Please note that the moderator is never able to seize or otherwise take your ERC20 tokens, they can only release them to you or the other trader, which is only performed after thoroughly assessing the situation.
Once you have received the payment, you need to tap the "I have received payment from username" button, to release the Tether to the buyer.
That's it. You have now sold Tether peer-to-peer on LocalCoinSwap. How easy was that! Now you've got the hang of it you'll be able to trade with ease. If you want to learn more about ERC20 tokens, P2P trading, or just about anything else related to cryptocurrency check out the LocalCoinSwap Academy, it is completely full of free articles and tutorials to help you get up to speed fast with crypto.
Join us on LocalCoinSwap today and get started making money buying and selling crypto within your local community or even worldwide with established OTC cryptocurrency brokers!
Happy trading!
---