If you've been in crypto for a while, you've likely heard about these cryptocurrency debit cards doing the rounds but simply don't know where to start looking. While there's a range of options, crypto debit cards aren't a one size fits all solution as most of them only support specific regions and cryptos. So it's time to find out if adding a crypto card to your wallet is a plus or a bust to add to your trading toolkit.
While P2P trading is often a far better option as it provides you extremely high flexibility to get paid or send payment in whatever way suits you, it's always good to know what options are out there for expanding your ability to trade your crypto in and out of the markets. None of the following should be considered endorsements and is based on publicly available information. Always do your own research before putting your cryptocurrency somewhere new or handing over personal information.
Wirex
One of the older players in the crypto debit card space, Wirex, has been around for some time now. So If you're looking to spend money on one of these cards, having a company that has been around a little longer is a good way to ensure you aren't likely to face a sudden shutdown or discontinuation of service in your region.
Wirex cards are supported in 130 countries, enable you to use over 150 cryptos and fiat currencies, and boast several million customers.
You can earn up to 2% cashback on in-store or online purchases via their Cryptoback rewards program that pays out in their token WXT, which is a great value add to users of the Wirex cards. Top-ups can be performed several ways using crypto but can also be performed via your other debit or credit card if that's something you're interested in doing.
With no monthly maintenance fees and even some free ATM withdrawals up to $400 a month, the Wirex card can be one of the best crypto debit cards to consider. Just be sure to investigate your specific spending habits to ensure that you won't get caught out by any unexpected fees, as pricing lacks a little transparency. In addition, you'll likely find that some additional costs are creeping into the spreads on conversions between crypto or traditional fiat currencies, so that's something to consider.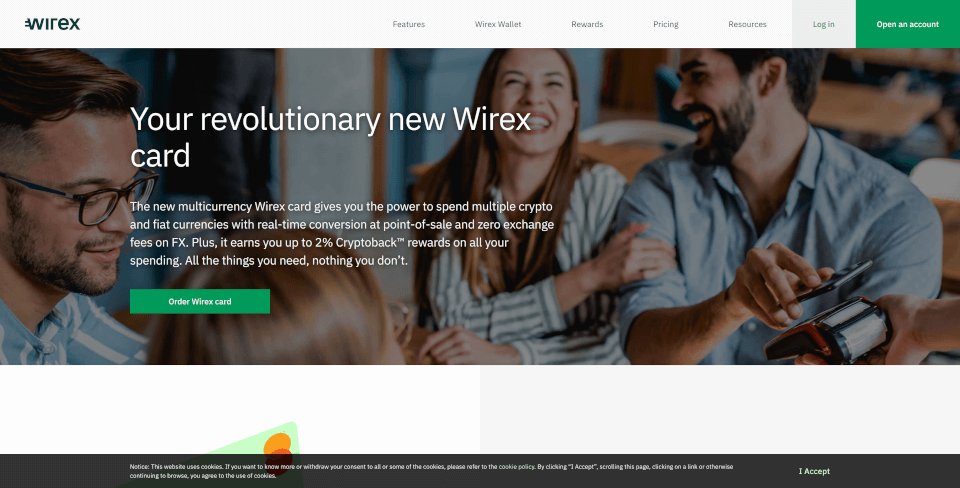 Want a crypto debit card with broad support for a wide range of currencies and locations? Then, Wirex might tick your boxes.
Unbanked
A newer entry to the cryptocurrency debit card list is the Crypto Card from Unbanked. Unlike many others that rely on apps to support their card with few other options to fund the card. The Unbanked debit card enables you to fund your card using the Visa Readylink program via direct deposit or cryptocurrency transfer. So while you may be looking for a bitcoin debit card or something specific, the Unbanked card offers you more options.
One of the things to be aware of when looking into the debit cards offered by Unbanked is that funding your account results in the funds being converted to their token UNBNK. The main concern with this is that you're exposed to the volatility of the cryptocurrency, which may be something that you consider outside your risk profile.
Unbanked offers support for several different cryptocurrencies when funding your account, including some less common options like Uniswap (UNI) and Basic Attention Token (BAT, alongside staples like Bitcoin (BTC), Tether (USDT), and USD Coin (USDC). Currently, it appears that cards are available to customers in the United States, Europe, and Latin America, which covers some notable areas but won't be suitable for everyone.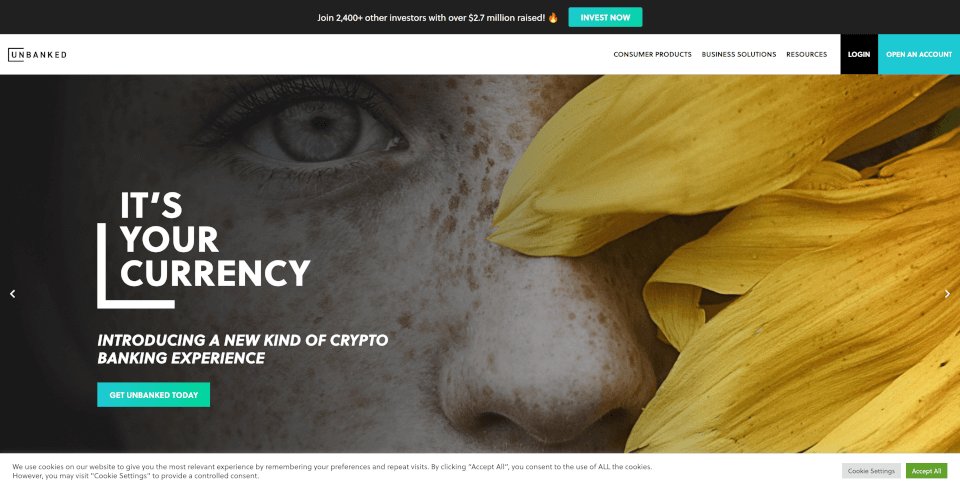 Like the flexibility of having multiple ways to fund your card and live in a supported region? It could be that the Unbanked debit card catches your attention.
Bitpay
If you've been checking out using bitcoin and other cryptocurrencies online, you've likely been face-to-face with Bitpay in the past. While better known for their payment processing solutions for merchants, they also offer a popular crypto debit card. Like Wirex, Bitpay has been around a long time and is very much well-established, so it is less likely to just fall off the map suddenly as can be the risk with some of the latest options.
Boasting fast reloads, flexibility, high security, broad access, and rewards, the Bitpay card can be an excellent option to investigate when searching for the top crypto conversion cards. Bitpay relies heavily on their app, which, to be fair, these days is not uncommon but is something that may irk the more hardline users looking for a more traditional experience.
On the other hand, with the app, you can get set up with a wallet quite fast, have it loaded, and be on to ordering your card in just a couple of minutes. So if you're looking for a prepaid MasterCard that can enable you to spend your crypto backed by one of the older companies in the crypto space, Bitpay could be the answer.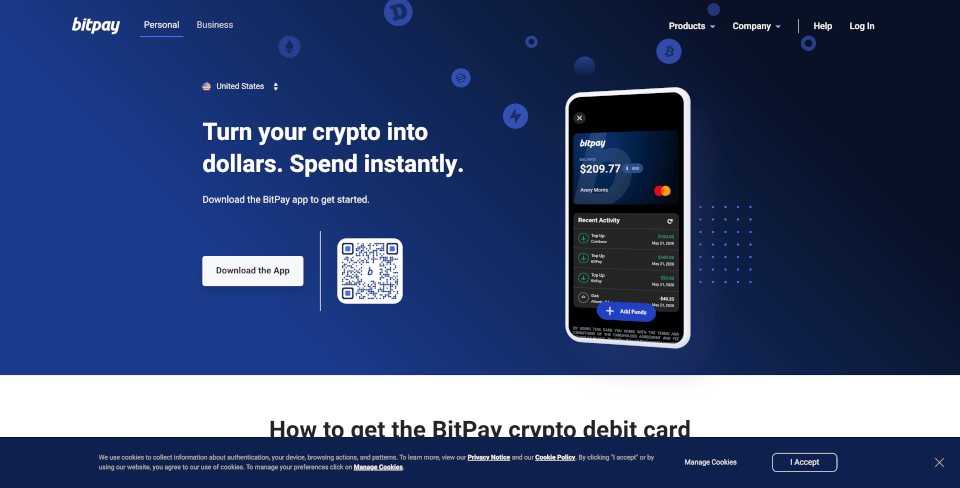 Want a debit card to convert crypto from a reputable brand in the space? Then, the Bitpay crypto debit card could be the answer.
Crypto.com
If you're looking for something a little flashy with all the bells and whistles, the crypto.com crypto debit card might be for you. While one of the newer entries to the market, this card is already one of the most popular and is also one of the most competitive options in terms of fees.
While cashback has been offered on spending there are report reports of rewards changing for the worse recently, so be sure to check for official announcements before looking further. No annual fees, and their card is actually made of metal, something you likely know if you've seen any of their abundant marketing since their card launched. Like some other cards, such as the card offered by Wirex, you can also top up your card with fiat, alongside a range of cryptocurrencies. There's also a range of "tiers" of cards, so if you're considering this one take a close look and be sure to check the fine print to understand exactly what you're getting yourself into.
Again the app is very strongly connected to the card, with the card acting more as a secondary product, albeit a well-rounded one. The crypto.com app features a range of features, including paying interest on some cryptocurrencies stored in the wallet, though this appears to require you to stake some of their token Cronos (CRO).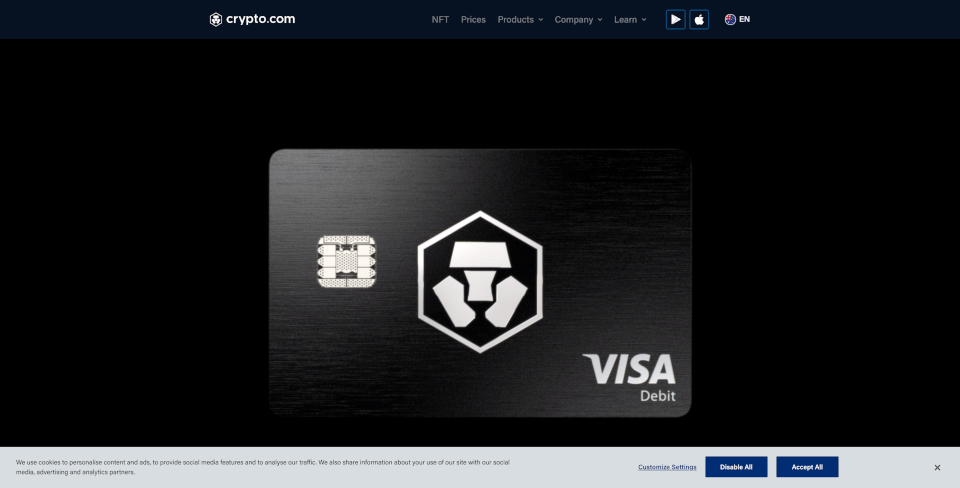 If you're looking for one of the newest entries to the market, check out the crypto debit card offered by Crypto.com
Nexo
For those of you that like to leverage the value held in your cryptocurrency without having to sell them, the Nexo card is an interesting offering. Using your Nexo card, you can spend the value of the crypto stored in your Nexo wallet; this offers a more unique alternative that feels more like a credit card than it does just another crypto debit card.
Rewards are also quite good with a Nexo crypto card. For example, you can receive an instant 2% cashback on purchases. In addition, using Nexo, you can earn quite good interest with claimed rates of up to 17% of annual interest. Unlike most other companies with similar offerings, Nexo offers a daily payout and enables you to withdraw your funds at any time. However, like all of these lending and rewards programs, it's crucial you take the time to understand any downsides or potential risks associated with them. It's not something you should jump into without adequate understanding.
If you think Nexo might be a good choice for you, we have some great news! You can trade Nexo tokens P2P over on LocalCoinSwap, enabling you to experiment with all that Nexo offers while trading Nexo tokens on the most popular non-custodial marketplace.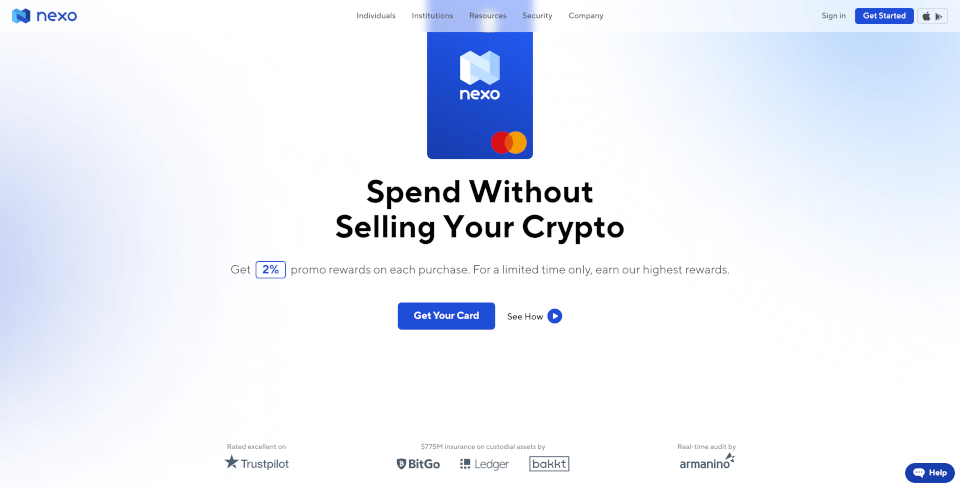 If you find crypto lending an interesting idea and want to access the value in your assets without selling them, perhaps the crypto debit card available from Nexo may suit you.
Conclusion
While there's a range of cryptocurrency debit card options they all have their pros and cons, and many are only available in specific regions. The best thing to do when trying to decide on a crypto card you may be interested in is to first decide what's important to you, which cryptos you want to use, and continue on by investigating the many options available with these things in mind.
If you do decide to get yourself a debit card that supports crypto exchange, be sure to check back in now and then to ensure you're still getting a good deal, don't be afraid to mix things up if a better option comes along in the future!
---