Are you looking to grab a VPN subscription but want to show your support for crypto simultaneously? As it turns out, many companies offering VPN services have jumped to support cryptocurrency payments, so you have an extensive range of options to choose from.
ExpressVPN
Official Site: https://www.expressvpn.com/
Accepts: Bitcoin, Ethereum, XRP

One of the most well-known VPN providers globally, ExpressVPN boasts high-speed servers in 94 countries, so you should be covered from just about anywhere. In addition, they have broad app support for everything from your iOS devices to your PC, enabling you easy access to ExpressVPN on any of your devices. While they don't have a massive range of accepted cryptocurrencies, they support Bitcoin and Ethereum, which should keep most people happy. In addition, ExpressVPN tends to provide excellent support for those looking to bypass geoblocking for streaming services like Netflix or Hulu. ExpressVPN is known for having very decent speeds on most of their servers, so if you're looking for the fastest VPN on the market, depending on where you live ExpressVPN might fit the bill.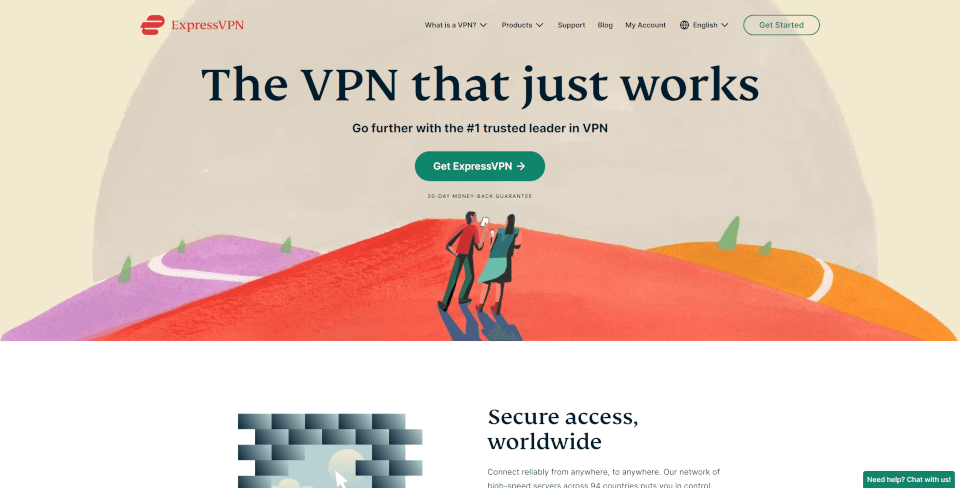 Surfshark
Official Site: https://surfshark.com/
Accepts: Bitcoin (BTC), Ethereum (ETH), XRP, and Litecoin (LTC)

One of the comparatively newer players in the VPN game, Surfshark has grown to be quite a significant offering. They seemingly always have a deal going and like to stack on some bonus features to get a few extra eyes on their product. Unlike some other large providers, Surfshark doesn't limit your device count and is quite competitively priced, making it one of the nicer VPNs to consider if you're looking for a VPN company that accepts cryptocurrency payments. Speeds are typically very reasonable as well so you shouldn't run into issues there either. Surfshark is one to check out, especially with their recent launch of a full GUI Linux app which not many other providers offer.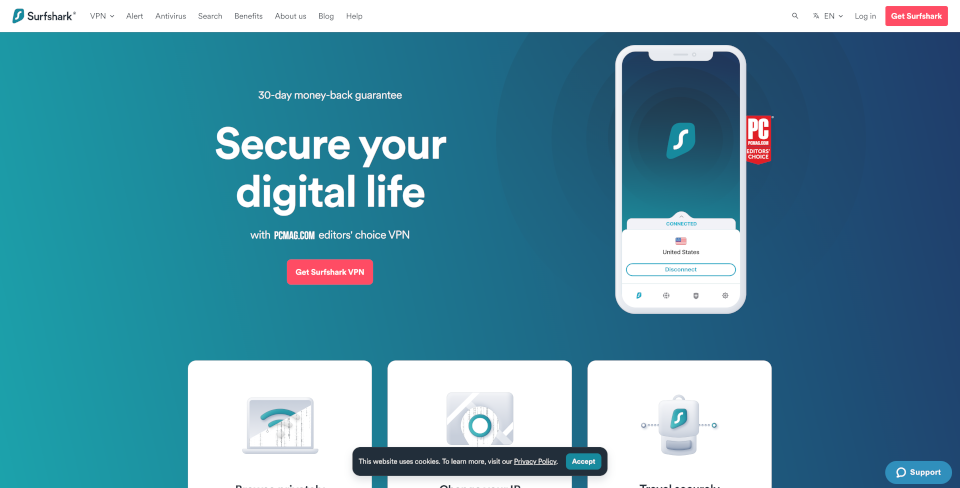 ProtonVPN
Official Site: https://protonvpn.com/
Accepts: Bitcoin (BTC)

If you're a fan of Prontonmail, one of the best email providers around for the privacy-conscious, you might just find your answer to the best VPN for you in ProtonVPN. Sometimes it's nice to be able to minimize your subscriptions and keep as many things bundled together to avoid you forgetting precisely who is offering you what, so if you're already using Protonmail, it's a bit of a no-brainer. Proton is big on privacy and security, has an excellent interface for their VPN if you prefer that visual experience, and a speedy 10Gbps server network offering respectable speeds. There's even a free version on offer that doesn't sponsor itself with advertising or farm your data; instead, it's subsidized by paid subscriptions which is a great to see and a fantastic way to support those that can benefit most from a VPN but may not be able to afford a paid plan.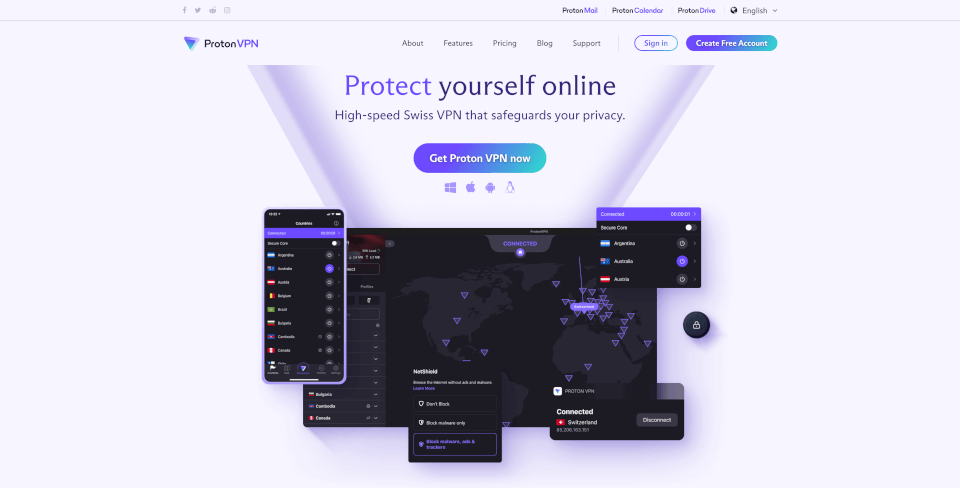 NordVPN
Official Site: https://nordvpn.com/
Accepts: Multiple

Another heavy hitter in the VPN realm, NordVPN, is another to consider if you're looking for one of the big plays with a high server count. With one subscription, you can use up to six devices at the same time connected to NordVPN, which should cover the needs of most people. However, it's still a noteworthy limitation that not VPN providers place on you. A 30-day money-back guarantee is offered, so they seem confident about their services which is always nice to see. If you're a traveler regularly signing in from different regions, you'll find yourself at home with a VPN like NordVPN that provides comprehensive coverage and high-server counts.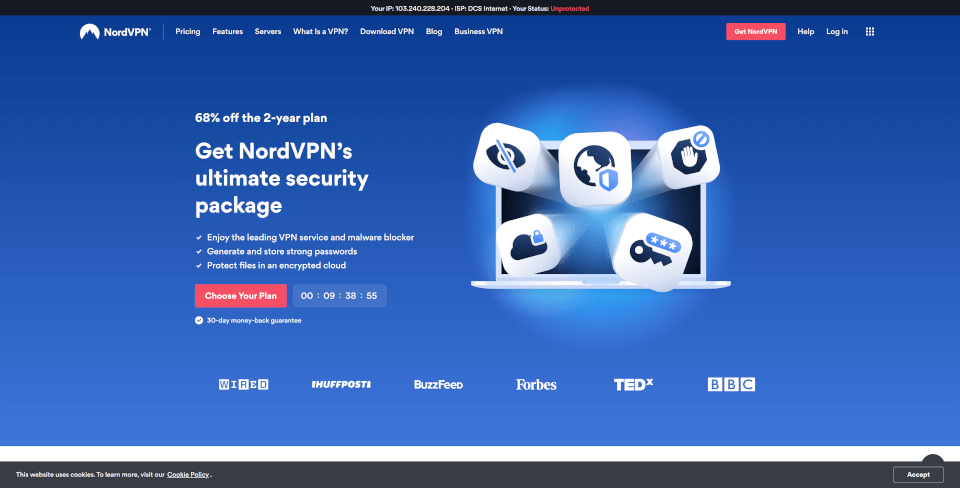 Private Internet Access (PIA)
Official Site: https://www.privateinternetaccess.com/
Accepts: Multiple

PIA claims 15 million customers and over ten years in the industry, making them a fairly well-established company. One of the downsides of opting for the latest and greatest offering by new entrants to the VPN market is that you never know how long they will stick around. One of the more interesting features offered by PIA is a desiccated IP, which, if you've ever experienced frequent captchas on commonly used websites while connected to a VPN, you are sure to appreciate. Other excellent features include WireGuard support, split-tunneling support for more advanced users, and even open-source software, which many crypto enthusiasts like to support.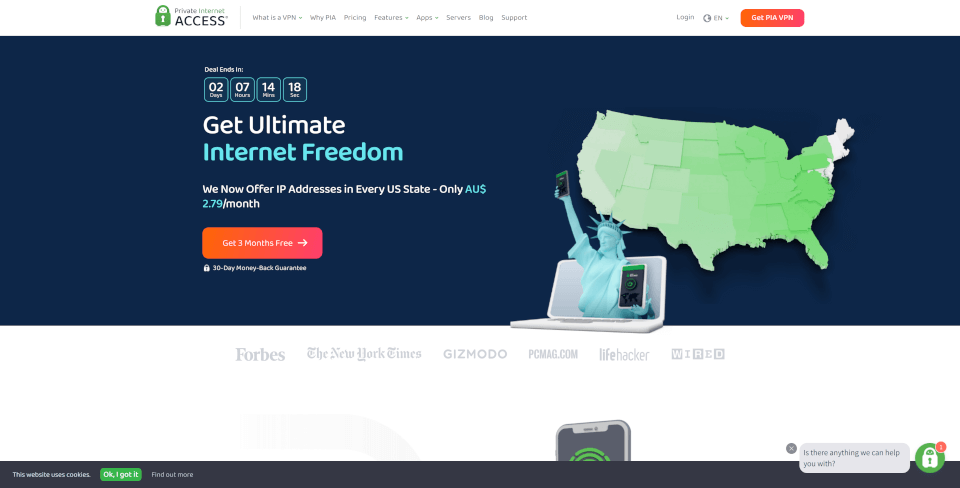 Mullvad
Official Site: https://mullvad.net/
Accepts: Bitcoin (BTC), Bitcoin Cash (BCH)

For those that value their privacy, often even signing up for accounts using personal information can be anywhere from a downer to a dealbreaker. However, if that's something you hate, Mullvad could be a tempting VPN to consider. They openly encourage payments using cryptocurrencies or even cash, which is rare these days, especially for online companies to offer, let alone encourage. They claim to keep no activity logs or ask for any personal information, which is also encouraging. Support seems to be lacking if you're looking for a VPN to stream via Netflix or other providers, so if that's essential for you, consider other options that boast good support for bypassing geo-blocking. Mullvad also has an extensive range of repositories open-sourced over on GitHub, which is always great to see and not something many providers are confident or comfortable doing. If you're big on privacy, Mullvad deserves a look.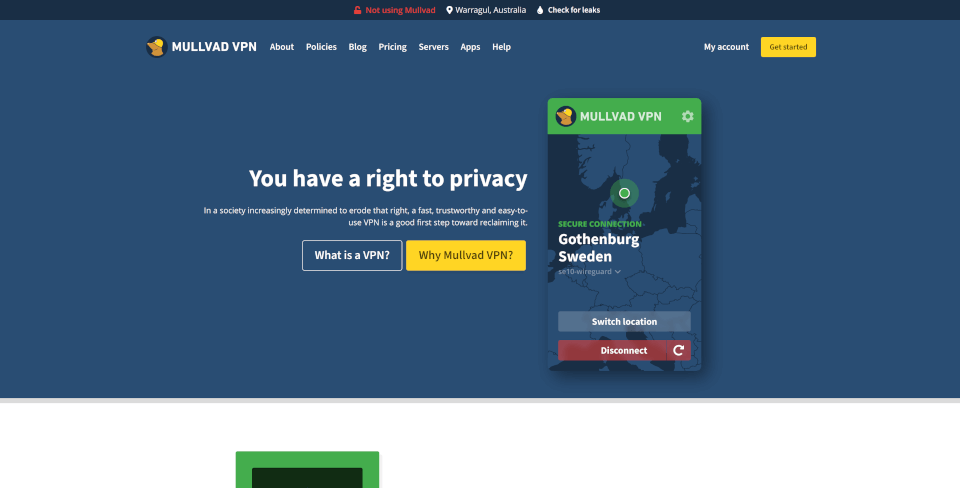 VPN.ac
Official Site: https://vpn.ac/
Accepts: Multiple

While a lesser-known VPN provider, VPN.ac provides a noteworthy service and has some benefits that may make it more appealing than more popular VPN options. They sport Dedicated bare-metal servers, WireGuard support, and excellent speeds due to their strong network that has managed to avoid such heavy traffic due to it somewhat flying somewhat under the radar. With support for over 20 countries, most users should find servers near enough to them to be worthwhile. With support for up to 12 simultaneous connections, you can throw all your devices on a single subscription, or at least six if you're opting to use WireGuard.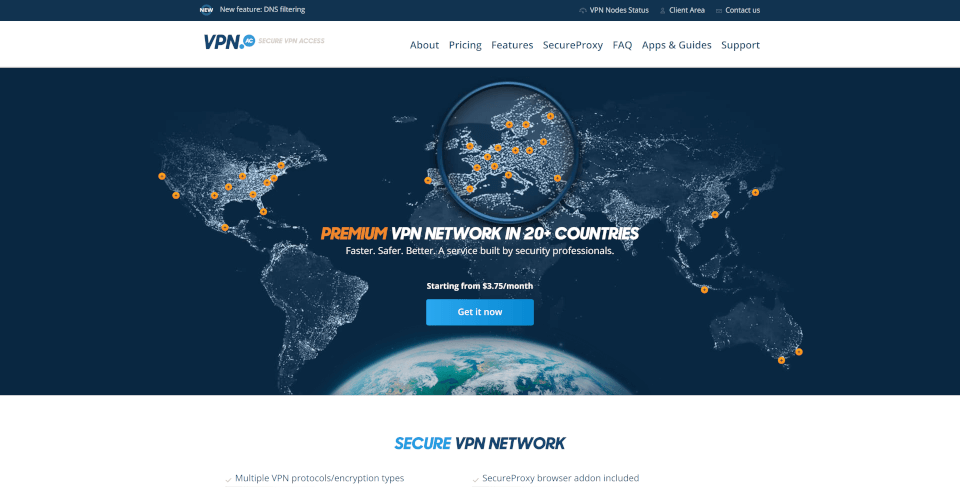 AtlasVPN
Official Site: https://atlasvpn.com/
Accepts: Multiple

For those a bit more budget-conscious, you may be wondering where the cheapest VPN can be found, and while some are priced better than others, going for bargain bin VPNs will often result in a bad experience. However, some VPN providers are making a name for themselves for both being well-priced and having some good features and service, and one of those is AtlasVPN. With AtlasVPN, you can expect affordable pricing (at least for now) and support for modern features like WireGuard alongside multihop servers. There are some missing features like Linux support in terms of their app and a smaller network, but that won't be a dealbreaker for everyone. Streaming is supported, which leads many people to look for the best VPN deal they can find, and if that's you, maybe consider something with a lower price and a reasonable offering, and you may just find that in AtlasVPN.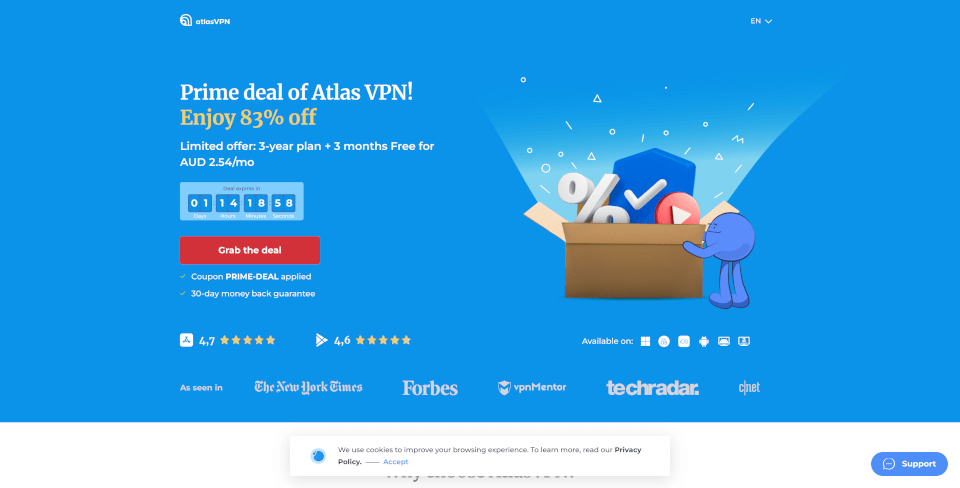 Perfect Privacy VPN
Official Site: https://www.perfect-privacy.com/
Accepts: Bitcoin (BTC)

If you don't mind paying a little extra, Perfect Privacy VPN may provoke interest. They offer some features that are a little harder to find and make a good choice for more advanced users that require a little extra. You can configure multi-hop VPN chains of up to 4 servers, enjoy unlimited connections, and rest a little easier with their no logs VPN policy, which they've been adamantly offering since back in 2008. However, one area that they reportedly don't handle well is streaming, so this may put many potential customers off. However, while you don't see this provider throwing money at excessive social media advertising or the never-ending on-sale cycle that many do, Perfect Privacy has established itself. It continues to be the VPN of choice for many, so if you don't mind a few extra dollars a month on your VPN subscription and aren't interested in streaming over your VPN connection, you may find a plan here to suit your needs.
Ovpn
Official Site: https://www.ovpn.com/
Accepts: Bitcoin (BTC), Ethereum (ETH), Monero

Like many Swedish VPN providers, this is another that is big on privacy. You may have guessed that already, though, given they accept Monero for payments allowing you to buy a VPN with Monero, which is pretty nice already. OVPN claims not to keep any logs, personal data, or monitor your online traffic. Interestingly they opt to use modern RAM storage, and this means that even if, for some reason, their servers were seized, they'd be unlikely to hold onto any information for very long as a simple reboot would clear any stored data. Another interesting thing about Ovpn is they don't actually require an email address to sign up, and it's optional when using Ovpn, which is not very common even among other VPNs that claim to be the best VPN for privacy. Four simultaneous connections are supported, multihop servers, WebRTC leak protection, and even a kill switch built into their desktop app, which they recommend over the browser extension they also provide. Overall a nice offering with OpenVPN UDP/TCP support and many features for those with a thirst for online privacy.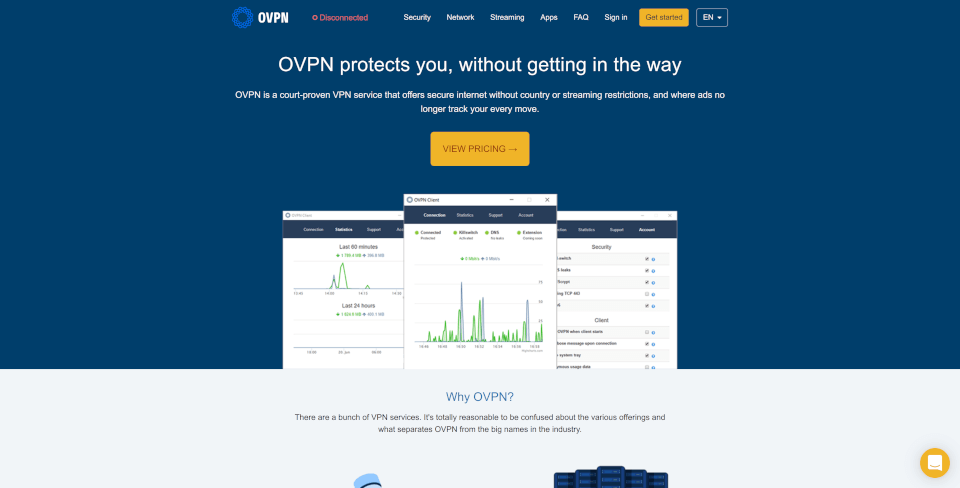 Should you use a VPN when Buying Crypto?
VPNs are a valuable part of your toolkit when trying to maintain as much privacy online as possible. While they are not a magic bandaid that ensures privacy, they can be beneficial as part of your online security, nor should you be careless in other ways thinking that a VPN will protect you. However, sometimes a VPN can be beneficial for crypto traders, especially if you live in areas that are not crypto-friendly or regions with unstable economies that may put you at risk of having your funds stolen or otherwise taken from you. So if you're wondering which may be the best VPN for crypto trading, keep reading.

However, it's important to note that when using a popular VPN, you may find that your IP address gets flagged when using some crypto trading platforms, which may result in issues or even your account being locked or otherwise restricted. At LocalCoinSwap, we respect your reasonable right to privacy and provided you are following the terms of service and trading fairly, you will not face any issues for simply using a VPN.
How to use VPN to Buy Crypto?
Once you have registered with your VPN provider and have everything set up, simply connect to a nearby server and log in to your account. If you're going to trade crypto using a VPN, it's crucial to spend the time to find a reliable and reputable VPN provider that ideally doesn't keep logs and respects your privacy. After you're connected to your VPN, you can simply continue browsing as you normally would, including trading on a P2P marketplace like LocalCoinSwap.
Can I Pay for a VPN with Bitcoin?
A growing number of VPN companies support payment via Bitcoin and other popular cryptocurrencies like Ethereum or even things like Monero, which many cryptocurrency enthusiasts will find a great option. As for actually performing the payment once you reach the checkout part of the sign-up process, once you've selected a provider and plan, it's generally time to choose a payment method. So, if a company supports cryptocurrency payments, it will typically be offered to you at this stage.
What is the Best VPN for Crypto Trading?
For some people, their primary use case for a VPN may be streaming while avoiding geoblocking or for added privacy when trading crypto. For others, they may do everything online with a VPN and strongly value privacy. Budget can also be a significant factor, and a wide range of offerings fall somewhere between the biggest budget VPN through to the most premium VPN options. There's a range of reasons to use a VPN, and not everyone will have the exact same needs, be in the same locations, or have the same budget. As such, the best VPN for crypto traders, or anyone else for that matter is simple, it's which ever one suits your needs while respecting your privacy the best.
---