You can now buy, sell and trade Bitcoin, Ethereum and over 20+ different cryptocurrencies anywhere, anytime, with anyone, using more than 250 different payment methods in over 190 countries around the world.
We are very excited to announce the hard launch of the LocalCoinSwap P2P Exchange - https://localcoinswap.com.
Not only has the platform been completely redesigned to provide a responsive, optimized experience for our P2P traders worldwide, but it is also mobile responsive so, whether you are accessing on a desktop, tablet or a mobile, your P2P trading experience is sure to be fast, secure and private!
We would especially like to thank all those who have contributed to the hard launch with particular thanks to our talented development team for their ongoing work to create the best, and most secure, P2P platform available worldwide. We would also like to thank everyone who helped with everything else from bug testing, UAT, community communications, partnerships, design, content creation and translations throughout this time. Even just brainstorming ideas. You know who you are! Every single contribution has made a SIGNIFICANT impact on the P2P platform that we see growing before our very eyes and for this we want to say a huge thank you for your ongoing dedication and passion for the P2P community!
---
Upcoming Promotions:
As part of the hard launch, we will be offering a number of VERY special offers to our traders. We will be providing more information on these promotions in the weeks to come as we ensure that the dividends are complete and platform is running smoothly. So please join up if you haven't already so that you are first to find out about the AMAZING promotions and partnerships coming very soon for all of our P2P traders worldwide - https://localcoinswap.com
---
What is LocalCoinSwap?
LocalCoinSwap is the world's first community-owned, peer-to-peer (P2P) Bitcoin and Altcoin exchange that connects people from all around the world to buy and sell cryptocurrencies such as Bitcoin and Ethereum.
As sign up is instant, trading with your peers is fast, secure and private. All you need to do is create a free trade advertisement and in minutes you can be trading locally with people within your community, or with established businesses and OTC brokers worldwide.
To join LocalCoinSwap and start trading, simply go to https://localcoinswap.com
Who Is the LocalCoinSwap P2P Exchange Designed For?
Cryptocurrency has long been associated with people who have access to banking infrastructure. Often those who could benefit most have been shut-out leading to a further skew of financial opportunities. LocalCoinSwap puts the power back into the hands of P2P traders so that they can choose who they trade with on their own terms.
There are many different people from all walks of life that prefer to use P2P exchanges like LocalCoinSwap.
Here's a little insight into our audience...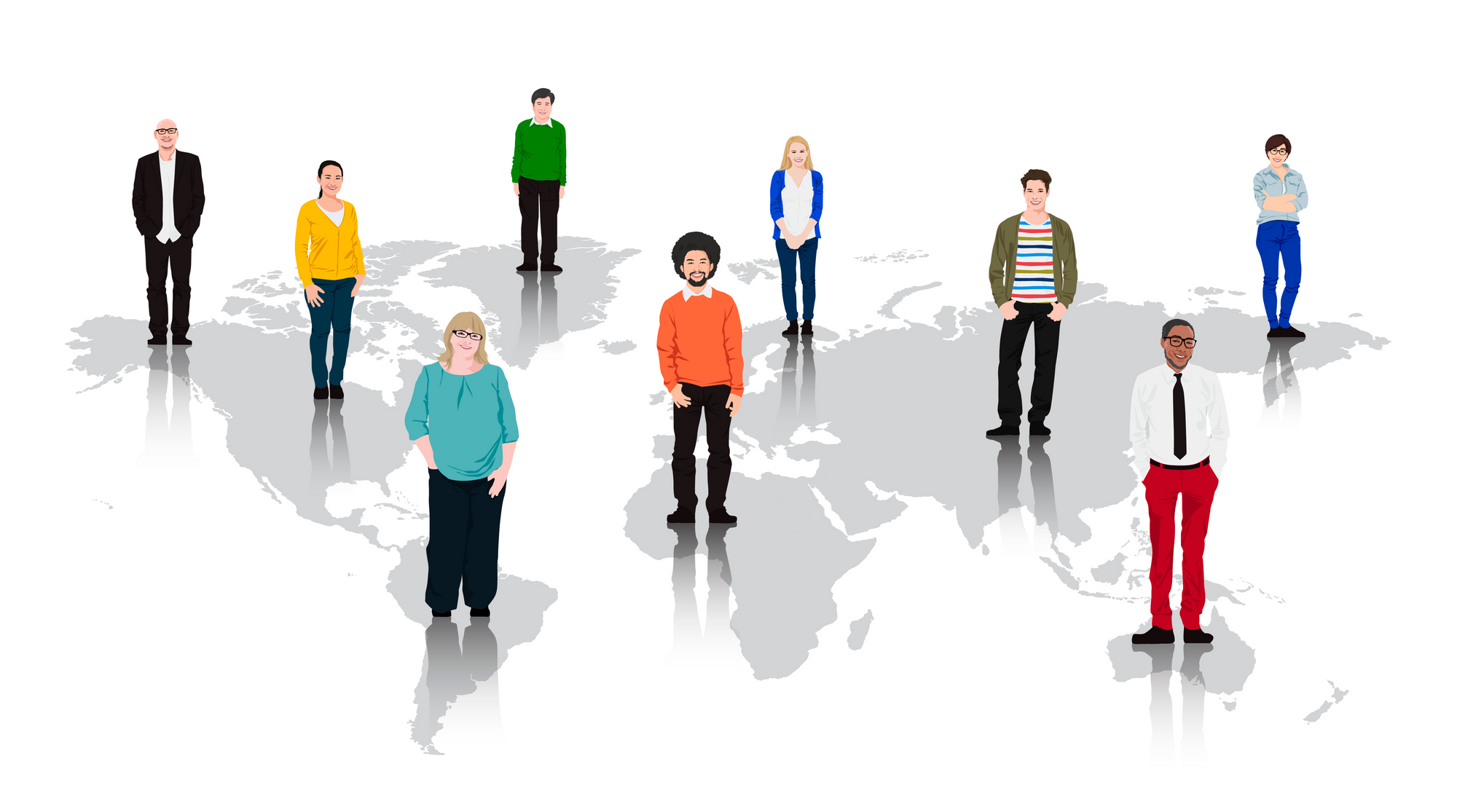 Crypto Entrepreneurs
On LocalCoinSwap, anyone can create their own online business buying and selling cryptocurrency, all you need to do is create an account and then consider which cryptocurrencies are popular or in high demand and then select which payment methods or geographical locations you will target.

The opportunities are endless and are really only limited by how many payment methods you want to offer across the countries that you will offer your service.

By becoming your own local cryptocurrency exchange, and providing a competitive price or alternative payment method, otherwise unavailable in your chosen area, you can set up a profitable business. All this whilst also providing a service to others around you who may not necessarily have access to cryptocurrency.

Privacy-Oriented Users
As we have outlined in our 7 reasons why privacy matters blog post recently, privacy matters! Cryptocurrencies originated from a preference to privacy and the belief of a value system outside of the legacy financial infrastructure that we have come to know. Many people prefer to use a P2P platform such as LocalCoinSwap that gives them the benefit of privacy or anonymity.

Crypto Users Blocked Due To Country Regulations or Legislation:
Then there are those who simply have no way to access centralized exchanges either due to government regulations or even banks forcing the shutdown of accounts linked to centralized platforms. In India we recently saw that banks had forced the closure of the accounts of anyone who was linked to a centralized exchange. Whilst you may think we have unlimited access to cryptocurrency because you personally have unlimited access in your home country, this sort of thing happens all the time in many different countries around the world.

With a P2P cryptocurrency exchange like LocalCoinSwap this isn't an issue as the platform simply facilitates the buying and selling of cryptocurrency trading as people are actually making payments to each other directly. Banks can't close what they can't see, and no transfers are done through the platform so users don't have to worry about banks closing their account when they are trading with other people.

Unbanked or Underbanked:
When you have unlimited access to cryptocurrency, it's easy to forget how many people still don't have access to personal documentation, such as a passport or birth certificate, thus they have no way sign up. For some, the cost to buy a passport that only lasts for 2 years is a price too high to bear when you are not able to travel. Let's not forget that there are still 2 billion people who are "unbanked" or "underbanked" which means they have zero access to a bank or limited access to mainstream financial services or products typically offered by retail banks and are therefore deprived of services that others take for granted such as a credit card or loan.

Everyone and Anyone!
Many people around the world prefer to use P2P exchanges like LocalCoinSwap to buy and sell their cryptocurrency. Lots of our users use centralized and decentralized platforms interchangeably. Others simply prefer to stick with the original crypto ethos of P2P and decentralization. We are true believers in open-access and facilitate an agnostic approach to cryptocurrency in order to ensure that people from all walks of life and all countries have access to cryptocurrency and blockchain technology.

As we move into 2019, our mission here at LocalCoinSwap is to ensure that EVERYONE around the world has the opportunity to take part in the financial revolution.
What Can You Do On LocalCoinSwap?
LocalCoinSwap puts the power back into the hands of every single person by letting them choose the terms that they want to use when buying, selling and trading cryptocurrency with their peers.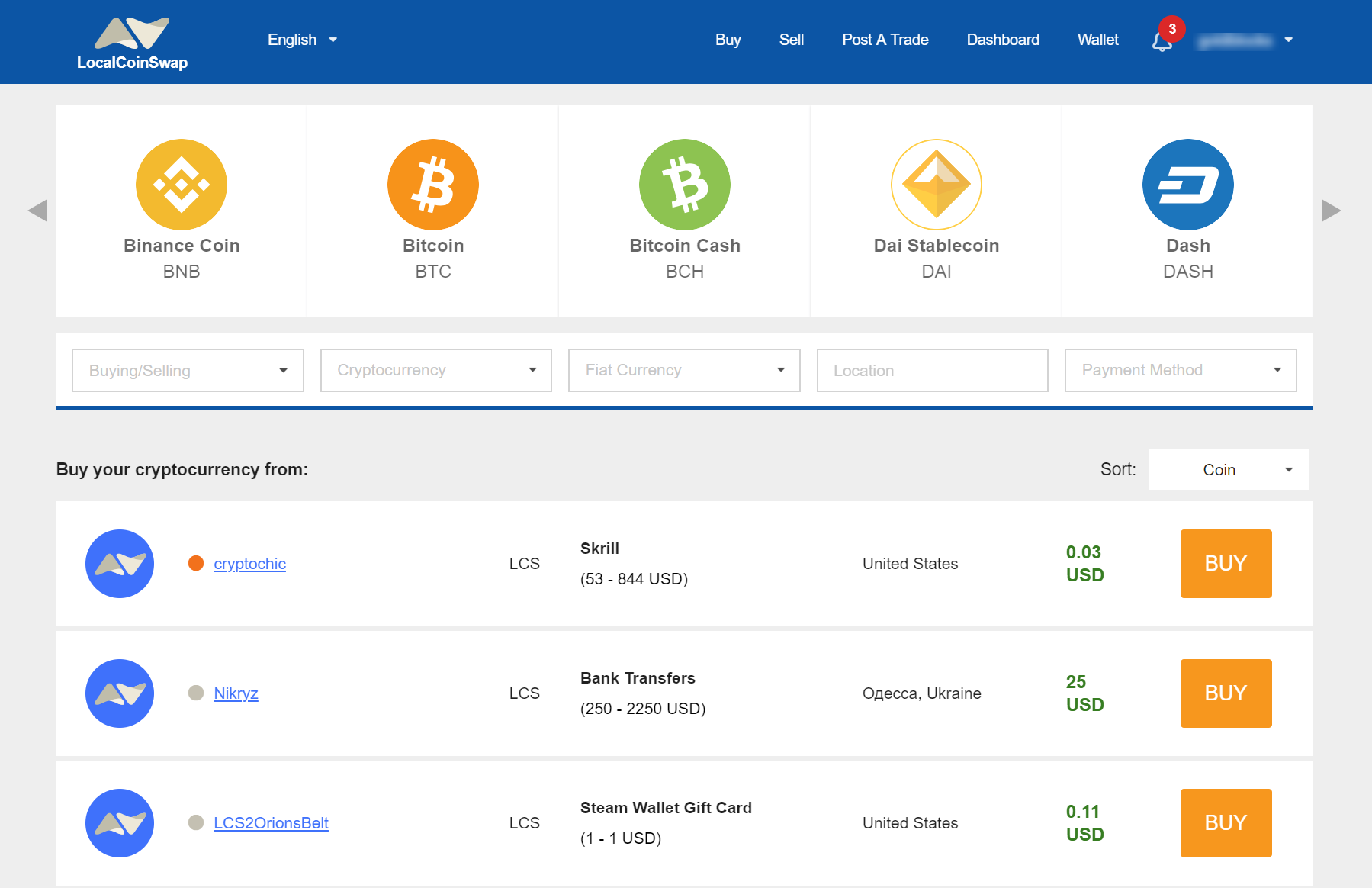 Using the LocalCoinSwap P2P exchange, you can now:
Locate crypto buyers and sellers around the world
Research payment methods in demand around the world
Buy cryptocurrency from other sellers
Sell cryptocurrency to other buyers
Create your own trade advertisement to buy and sell on your own terms
Use the LocalCoinSwap platform wallet for storing your cryptocurrency
Discuss trade terms and conditions through an inbuilt messaging system
Manage your LCS dividends in our dashboard
Calculate your referral bonus profits in the referral dashboard
For further information, you can read our step by step guide to using the LocalCoinSwap P2P exchange which is coming very soon!
So, What's New On LocalCoinSwap?
We will be posting a more in-depth post regarding all updates in the coming days, however for now, here is a little overview of the most significant updates to the website.
Mobile-First User Interface:
Realizing a large portion of users were accessing the platform via mobile devices we wanted to ensure we delivered a user experience that was clear and easy to use without the added steps of downloading a mobile app. The site has been rebuilt with a responsive and mobile-first design enabling quick access across multiple platforms and difference device usage.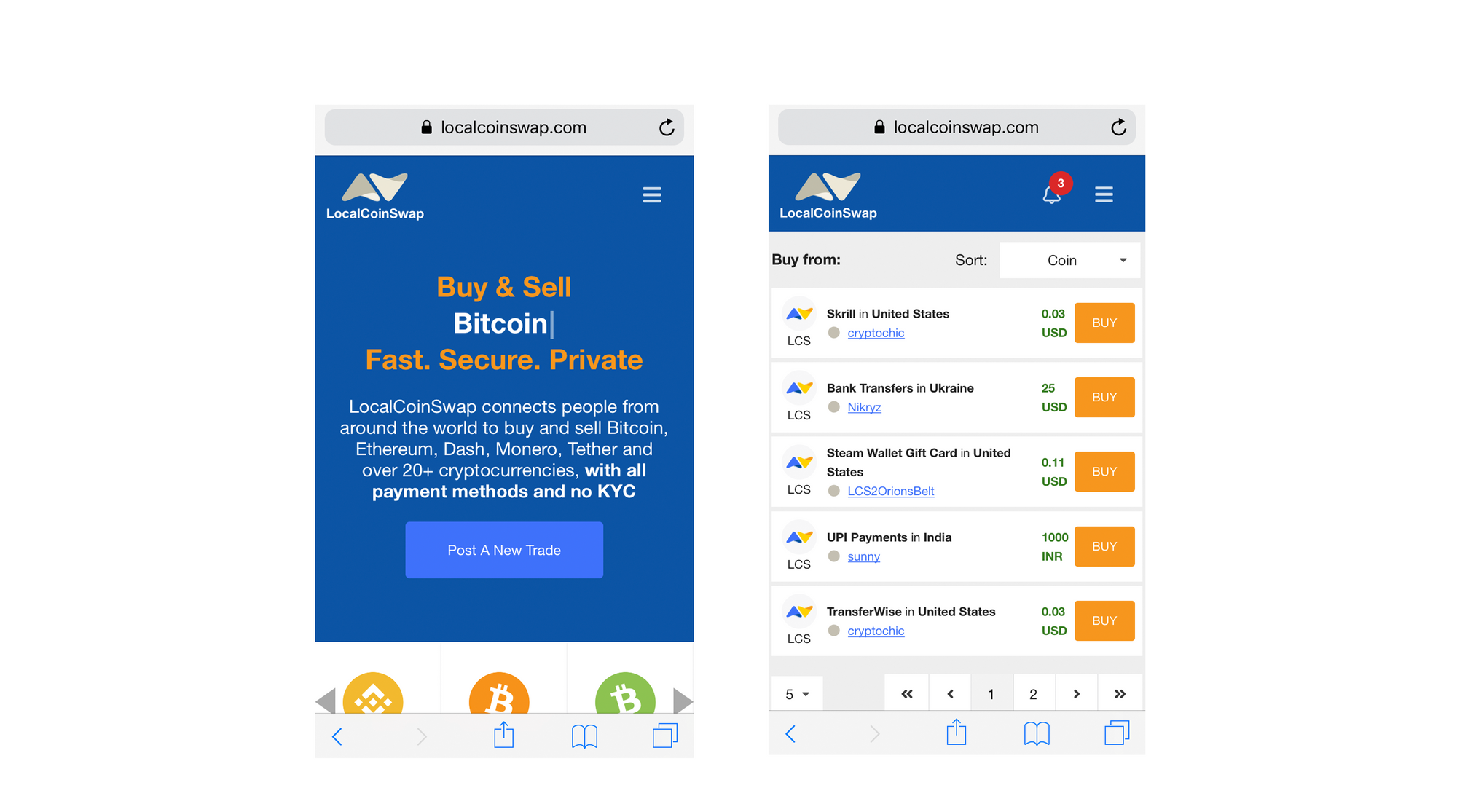 Responsive design is a method that enables the web to fit the screens of different devices automatically, displaying content in a way that makes people feel comfortable. This greatly reduces users' operations like panning, zooming and scrolling when browsing the web. The result is a user-friendly, intuitive website that increases accessibility and usability on both desktop and mobile devices.
Navigation and Layout:
The overall navigation and layout of the LocalCoinSwap P2P exchange isn't too dissimilar to other P2P exchanges as there is a certain format that P2P exchanges require in order to display buy and sell trades in a logical manner that is easy for users from different backgrounds to understand.
You will notice however that we have made some significant updates to the site including the carousel and the listings themselves. As we are one of the only P2P cryptocurrency exchanges with multiple cryptocurrencies available such as Bitcoin and Etehreum, the carousel plays a huge part in the findability of buy and sell advertisements by cryptocurrency type. We have revamped the look and feel of the carousel and will be making additional improvements to it over the next few weeks that will further enhance the process of locating trades on mobile.

Metrics:
The new metrics feature was a highly requested addition to the LocalCoinSwap exchange. Helping our users keep track of site volume not only enables transparency to investors in LCS Cryptoshares but also to the crypto community as a whole on the liquidity of our P2P exchange.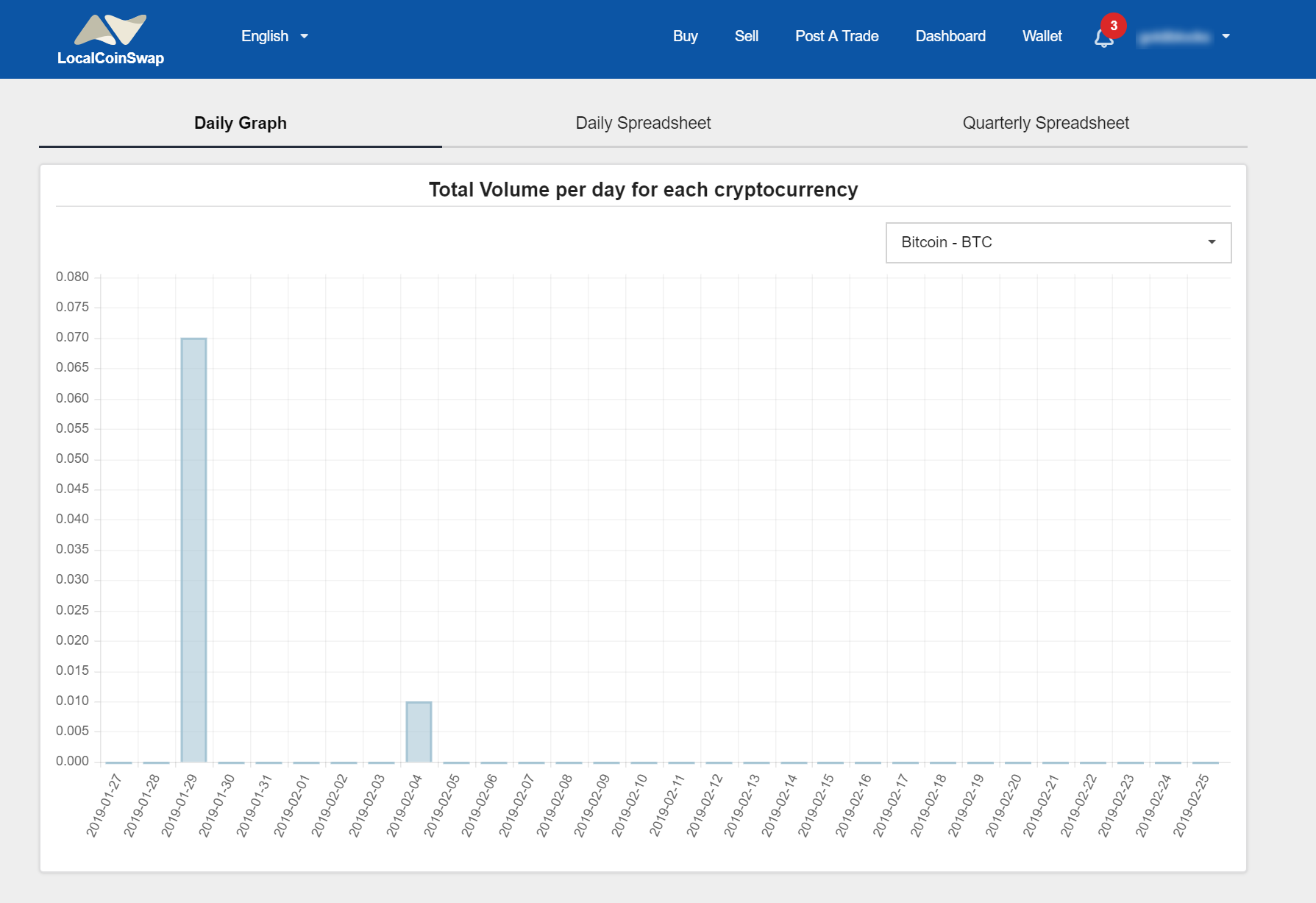 In addition to volumes being shown, users are able to estimate on the fly their current dividend returns as they stand on any given day.

Dividends System:
The hard launch of the platform sees the integration of v1 of our dividends system. This is the first iteration of a platform that allows our LCS Cryptoshare holders to view and calculate their dividends
Referral Program:
Along with the launch of the LocalCoinSwap P2P exchange, we are also very excited to be able to begin the LocalCoinSwap Referral Program. We believe it is one of the best in the industry when it comes to increasing profits for P2P traders.
Our Referral Program has a tiered structure that allows both you and your friends to earn cryptocurrency rewards whilst P2P trading. When you register your new account on LocalCoinSwap, you will receive a free referral code which can be found in your profile. You can share this code with your friends and family as a link allowing them to directly sign-up to the LocalCoinSwap platform. By sharing the referral code, you will both earn cryptocurrency every time the person you sign up completes a buy or sell trade that they post on the exchange.
If you would like to read more about our Referral program in greater depth, please read the blog post LocalCoinSwap P2P Referral Program.
Referral Dashboard:
With our referral program up and running for hard launch, users also needed an intuitive and transparent way to see all their referrals and measure their performance in order to calculate their referral bonus profits. Now, with the new referral dashboard, you can keep track of all the successful signups you make in its own dedicated section quickly and efficiently.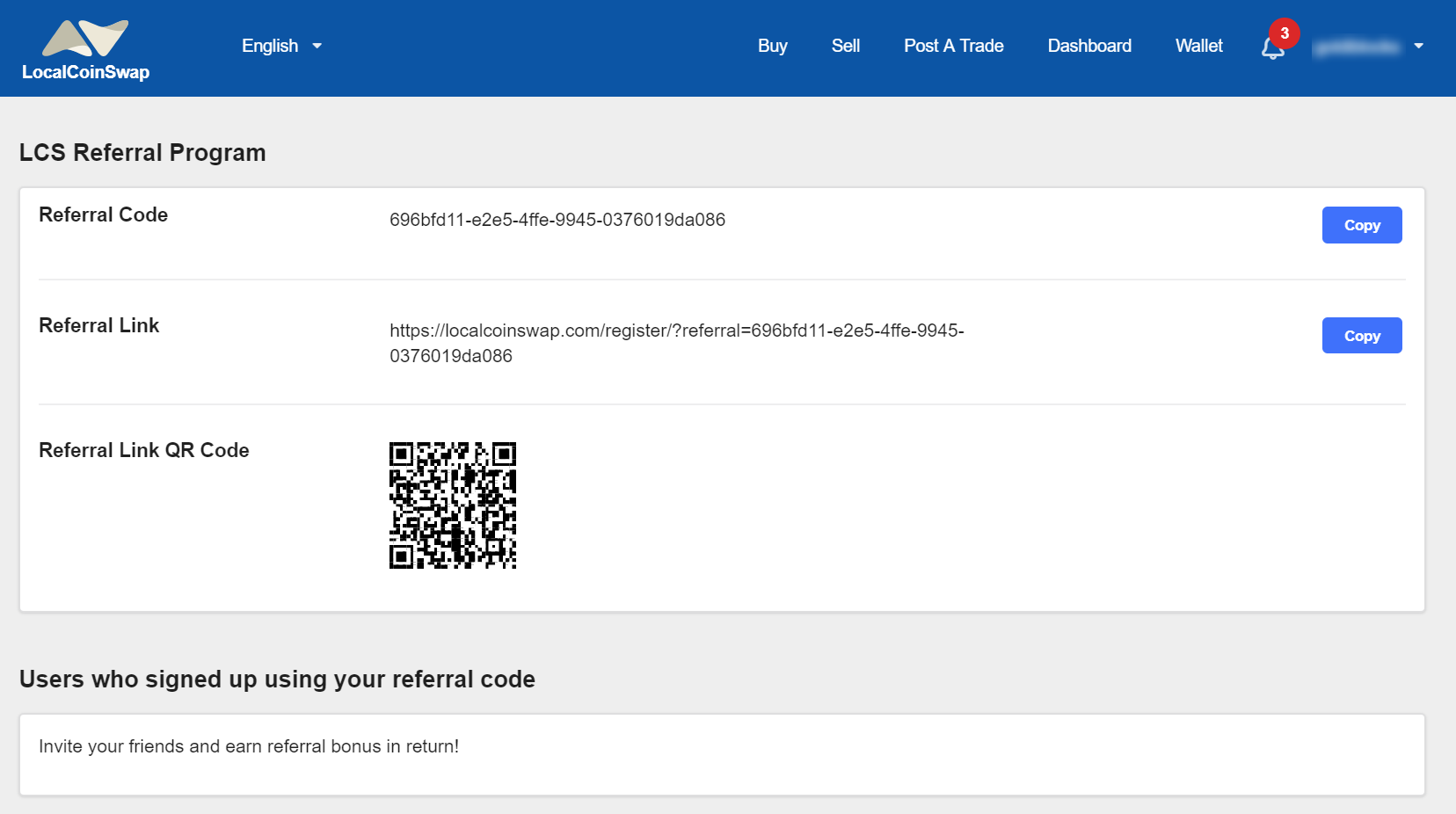 Language Translations:
We are very pleased to announce that we now have a P2P exchange that is available in English, Spanish and Russian. We have an amazing community for all 3 languages and we are very happy to be able to offer this to both our LCS P2P traders and LCS investors. We are also working on additional languages with Portuguese and Turkish almost ready to go live.

What's Next?
Marketing:
With our exchange now in full operation, it is time to get the word out and promote what we have to offer to the wider P2P community. During the building and testing, the team has developed an ongoing marketing plan for the continued building of awareness with a focus to drive volume and users.
Partnerships:
Integrating new coins and tokens on the exchange is important to the community and for the exchange volumes. As we charge no listing fees, we are only concerned with adding value to the community via other means. This includes selecting projects that are in line with our ethical business code, building something that has the potential to truly benefit the crypto community and supporting the wider growth of the platform for both our traders and investors.
Customer service:
The user experience goes beyond just the features and ease of use of the site. With the primary task of building the exchange to its current level under our belt, we will now be focusing on another significant component of the exchange, namely a best in class customer service experience. Our objective is to be the leading platform for customer service and we intend to ensure that this is fulfilled ASAP after hard launch.
Continued Improvements:
With the launch of our platform, we must always remember that the hard launch is not a set and forget process. Immediately after hard launch we will continue to work on additional advanced features that we would like to integrate into the platform and with community and user feedback to the platform, we will continue to refine and polish the exchange. Creating new relationships and building stronger ties with those already in place will also solidify our exchange as not only the best place to trade but also the best exchange to do business with.
In Summary:
Once again, we would like to say THANK YOU to the wider crypto community, to our partners who have helped share the word about our launch, to the P2P buyers and sellers who will and already do use the LocalCoinSwap P2P exchange but most importantly to our LCS community who have stuck by us through this long first year of our development whilst we created a P2P exchange that was worthy of being called the best P2P platform in the world. We can't thank you enough for all of your ongoing support, feedback, suggestions and recommendations. We are so very excited about the year ahead and it is important to remember that this launch is just the beginning of a very exciting rollercoaster ride that is ahead.
Please make sure to follow us on our social media pages in order to keep yourself updated with LocalCoinSwap announcements:
Telegram: https://t.me/localcoinswap
Discord: https://discord.gg/rBEGSxH
Twitter: https://twitter.com/Localcoinswap_
Facebook: https://www.facebook.com/localcoinswap
Our Blog: https://blog.localcoinswap.com
Don't forget, you too can get started buying and selling cryptocurrency on the LocalCoinSwap P2P exchange - https://localcoinswap.com
---