Buying Bitcoin with LocalCoinSwap is fast, secure and private. Not only is our P2P exchange easy to use, but you can buy and sell Bitcoin with over 250+ payment methods, 160+ fiat currencies and in over 190+ countries worldwide, making LocalCoinSwap one of the most inclusive and accessible P2P marketplaces in the world.
This is a quick guide to buy Bitcoin on LocalCoinSwap, if you are interested in something with a little more detail, we also have a Step by Step Tutorial on How to Buy Bitcoin if you prefer a more detailed overview.
So let's get started...
Table of Contents:
Register or Log into your account
Search for Advertisements
Open a Trade
Pay the Seller
Mark Payment Complete
STEP 1: Register or Log into your account
Registering an account on LocalCoinSwap is super fast. There are no lengthy ID verification requirements to get started. As an added bonus, you will also receive a free and secure digital wallet for storing your Bitcoin. If you already have a LocalCoinSwap account, you can login to get started.
STEP 2: Search for Advertisements
Go to the LocalCoinSwap homepage and use the search filters at the top of the page to see what advertisements for Bitcoin are available. You can search via buy/sell, cryptocurrency, fiat currency, payment method, location, or a combination of each. Next, choose a buy advertisement that suits your trading terms and tap the "BUY" button to view the advertisement in more detail.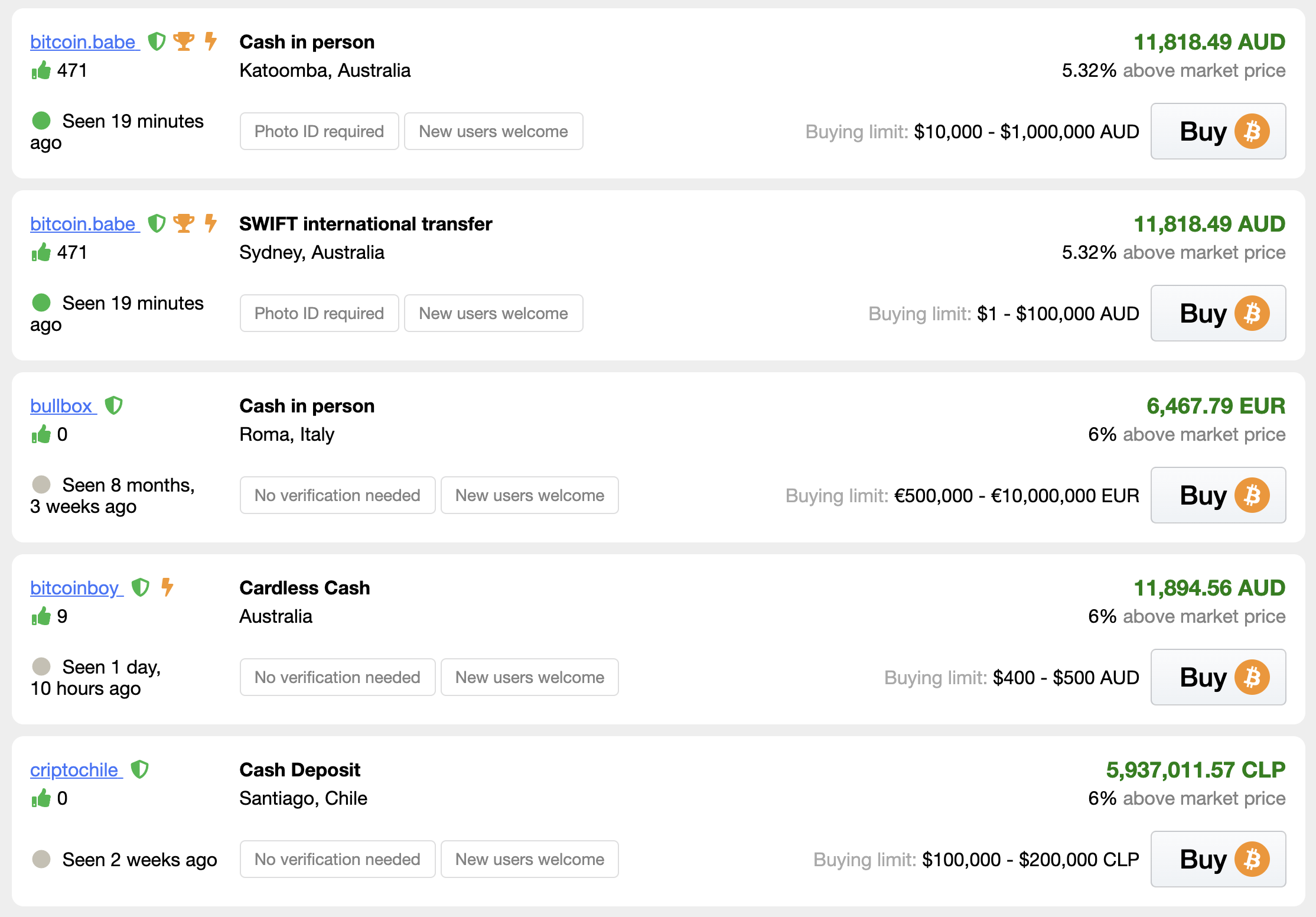 STEP 3: Open a Trade
On the full advertisement you will see more details such as price, trade limits, seller statistics, and terms and conditions of trade. If you are happy with the trade conditions, enter the amount that you want to buy in either fiat or cryptocurrency and tap the "Buy Bitcoin" button. The seller will now receive a notification that you want to buy their Bitcoin and will accept your trade.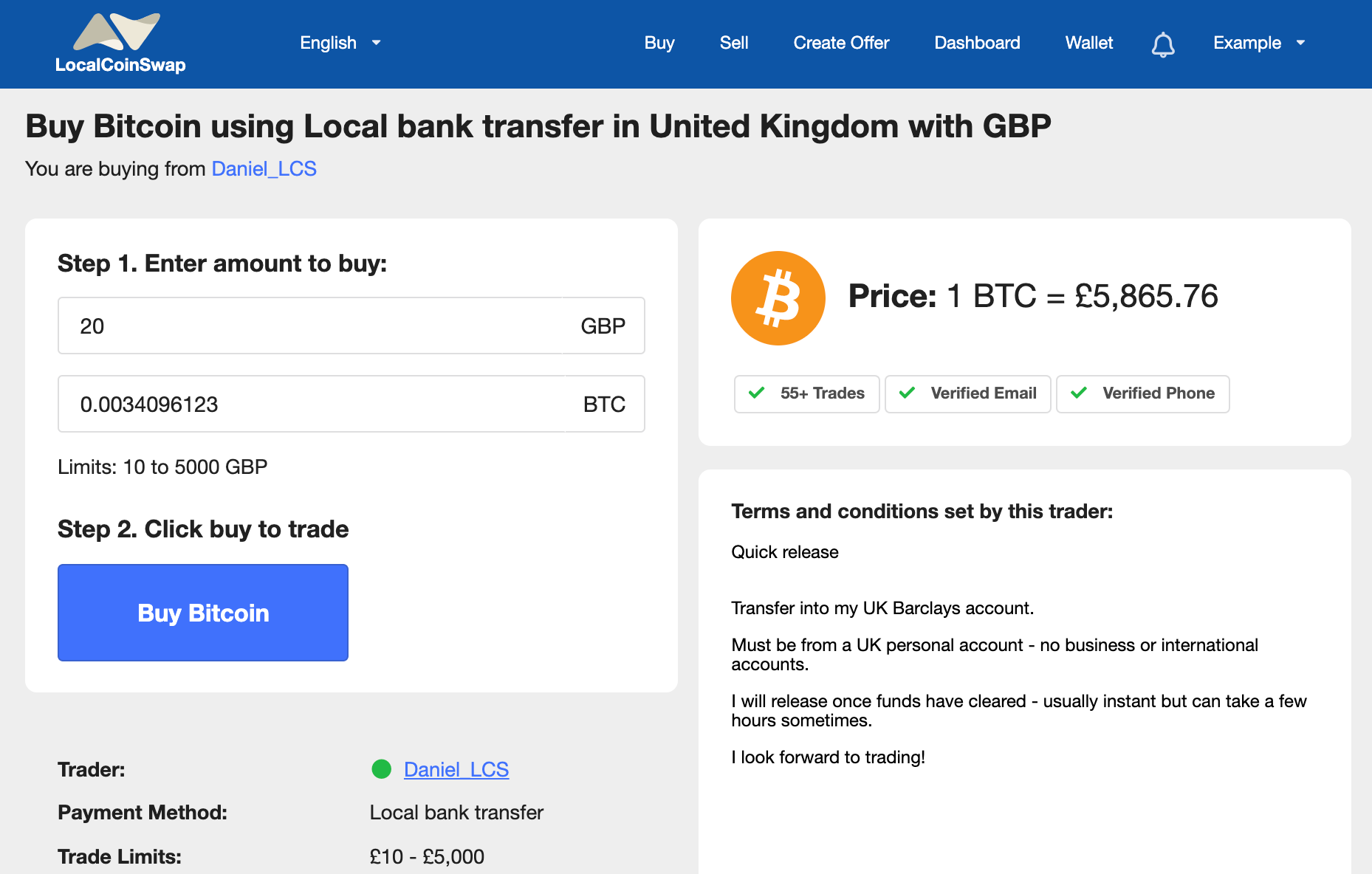 STEP 4: Pay the Seller
Once you receive notification that the seller has accepted your trade and escrowed the crypto, you need to pay them via the trade payment method agreed. Send a message to the seller via the message window to request their payment details as well as ask any questions.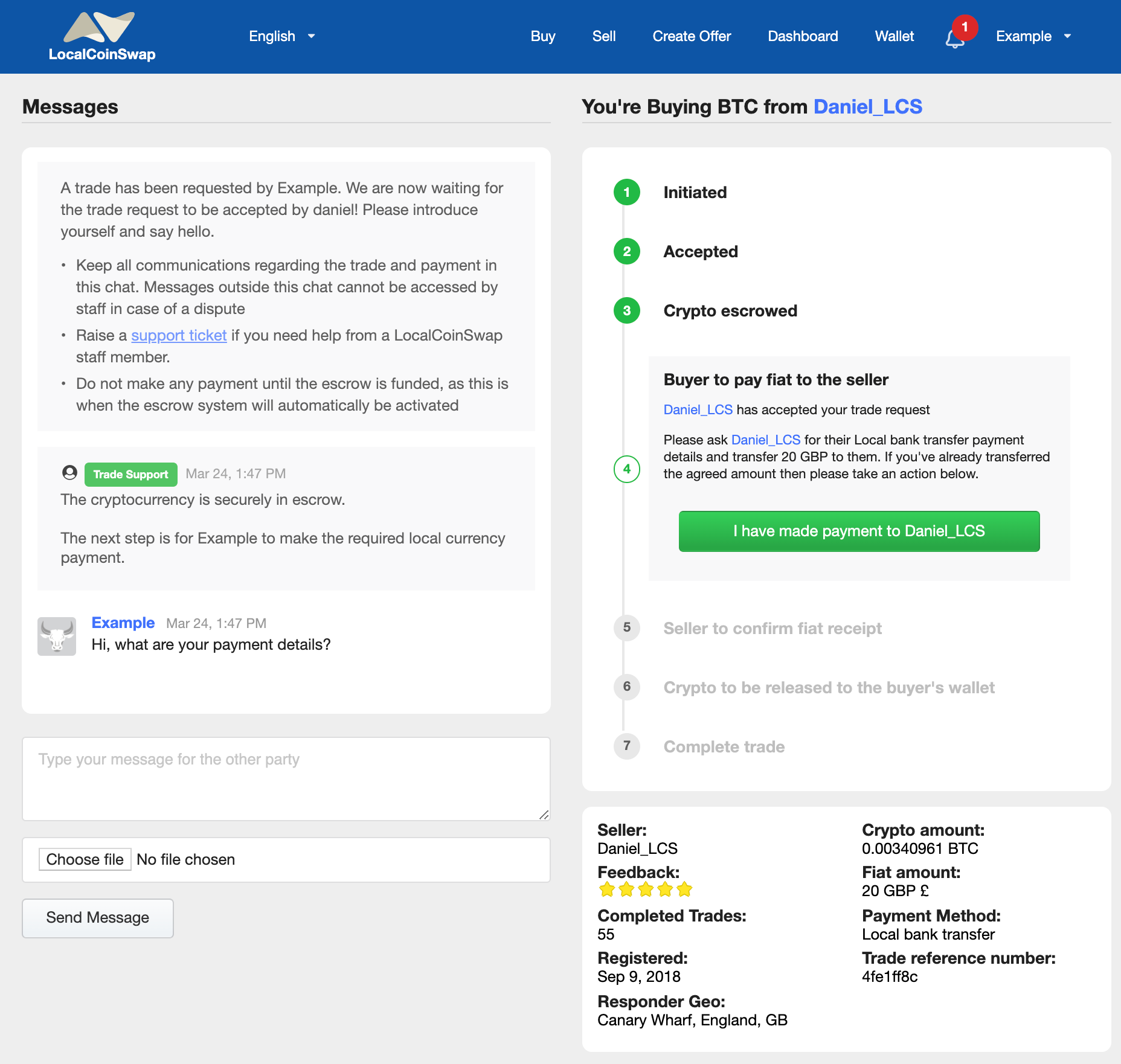 STEP 5: Mark Payment Complete
During this period, the seller's Bitcoin has been held in secure escrow protection on the platform. Once you have paid the seller, you need to tap the 'I have made payment to username' button, to let the seller know that payment has been made. Once the seller verifies they have received your payment, your Bitcoin will be released from secure escrow and will be available instantly in your platform wallet.
That's it. You have now bought your first Bitcoin peer-to-peer on LocalCoinSwap.
Join us on LocalCoinSwap today and get started making money buying and selling Bitcoin within your local community and worldwide with established OTC cryptocurrency brokers!
---