Do you want to buy something with cryptocurrency? Perhaps you'd like to invest in an older cryptocurrency that has so far stood the test of time or experiment with a fast alternative to bitcoin. Whatever the case, you may be interested in buying Dash.
Read on to find out how to buy dash, why you may want to, and learn a little more about this curious cryptocurrency in this guide to trading dash.
What is Dash Cryptocurrency?
Often referred to as digital cash thanks to its name, Dash is a well-established cryptocurrency with a dedicated following. Dash is one of the earlier cryptocurrencies to make a name for itself. It is expanding and growing with a strong focus on merchant adoption and making cryptocurrency more accessible.
With 4800+ merchants and services recorded on their website accepting dash, it's a very interesting example of a cryptocurrency that blends itself into the world around us. Alongside this adoption comes fast transactions, so if merchant adoption and near-instant transactions sound interesting to you, check out Dash and see what the future of digital cash could look like.
The Best Ways to Use Dash Cryptocurrency
Pay for goods and services at a range of merchants
Send crypto to friends or family fast
Use as a remittance tool to send value worldwide inexpensively
Invest in a Dash masternode
How Does Dash Cryptocurrency Work?
While Dash was initially forked from Litecoin, it soon pivoted to become a Bitcoin fork. However, It has grown and been developed significantly since its initial fork from either project. Dash combines proof of work (PoW) consensus mechanism with masternodes that help it provide additional features like InstantSend and PrivateSend. Alongside these interesting features comes a self-funding mechanism built into the design to ensure that Dash can continue to fund its growth and development via a portion of the block rewards going to the Dash treasury. Masternodes can be created and collect a significant portion of block rewards as well by staking 1,000 Dash.
Where Can I Buy Dash?
While there's a range of places you could consider to use when buying Dash, many of them are restricted in various ways. Most centralized exchanges offer a place to trade Dash; however, they also come with the inconvenience of limited payment methods, a slow sign-up process, and a lack of flexibility that allows you to trade Dash in a way that suits your needs.
Trading Dash P2P is excellent, but trading Dash on LocalCoinSwap with its modern approach to P2P trading provides the best exchange to trade Dash. There are many reasons to buy or sell Dash using LocalCoinSwap; for example, the vast range of supported payment methods and fiat pairs enable you to trade across the world no matter what payment methods you have available or which local currency you are exchanging.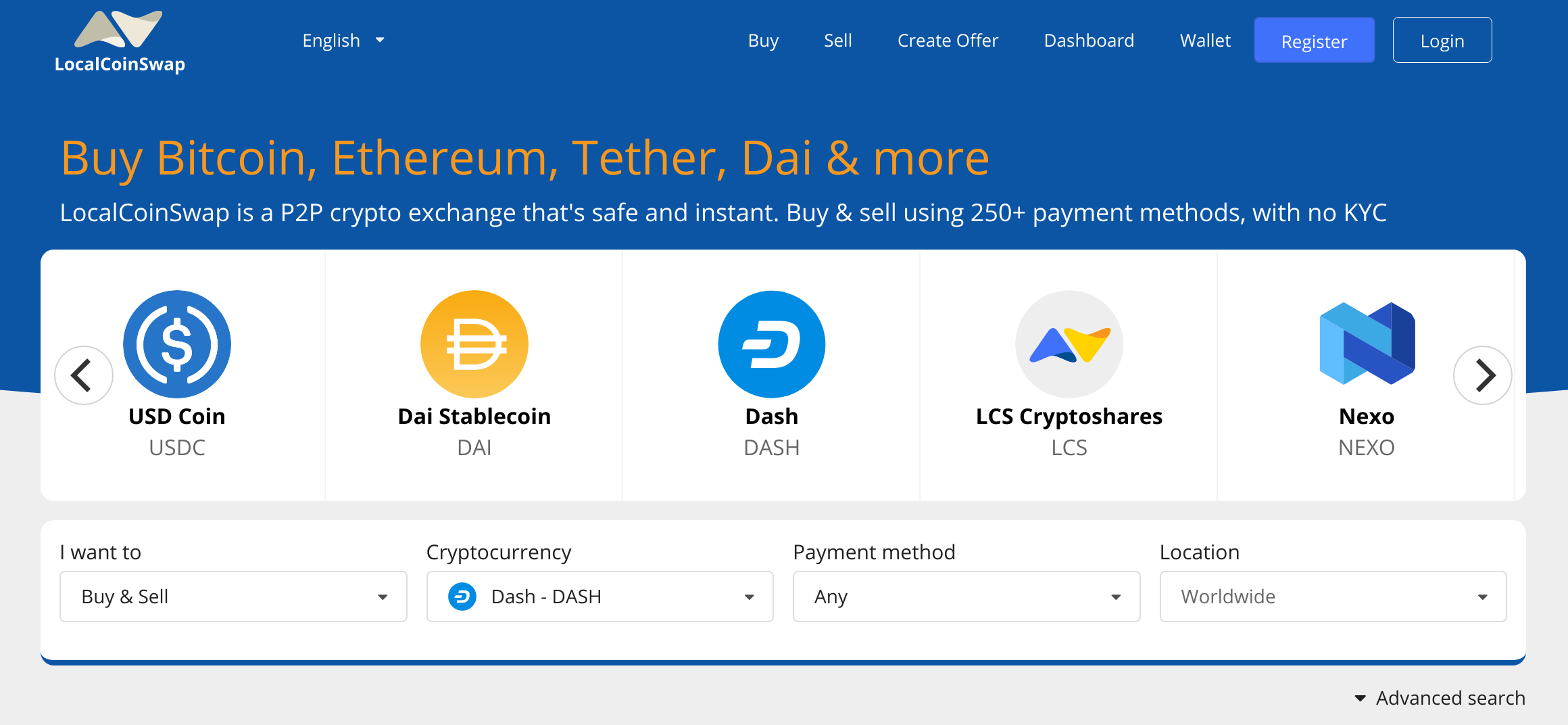 How Much is Dash Worth?
Like most cryptocurrencies, Dash has had its ups and downs. However, thanks to Dash being well-known in the cryptocurrency space, it is easy to find plenty of information on the previous and current price of Dash. It doesn't matter if you jump on CoinMarketCap, CoinGecko, Nomics, or even add some Dash to your favorite crypto portfolio tracker; you'll have no trouble finding the current market price of Dash coin.
Is Dash a Good Investment?
You should always do your own research when considering adding a cryptocurrency to your portfolio. There's plenty of great resources that can help you learn about the goals of Dash, the technology, and the roadmap ahead for this very active project. While the phrase "don't trust, verify" is often used regarding bitcoin, it fits just as well for any cryptocurrency.
If you are considering any kind of cryptocurrency investment, spend the time to learn about it to ensure you are making an informed decision. Dash and other cryptocurrencies can be interesting, but they are volatile and come with risks, so you must decide if it's right for you.
How is Dash Different from Bitcoin?
Uses the X11 algorithm instead of SHA-256
Governance of Dash DAO enables sustainability
Masternodes help support the network
2.5 minute block time
18.9 million Dash maximum supply
InstantSend supports practically instant transactions
PrivateSend increases the privacy of your transactions
Dark Gravity Wave (DGW) adjusts the difficulty after every block
Can You Trade Dash for Cash?
Thanks to the P2P trading of Dash on LocalCoinSwap, you can indeed exchange Dash coin for cash. In fact, you can use anything from PayPal to bank transfer and much more. The flexibility offered through P2P trading enables you to exchange on your terms and in whatever way suits you best. While many Dash exchanges will only support limited payment types, sometimes only wire transfer, which can take days. You can use whatever is available to you to make Dash exchange convenient by trading directly with other traders on LocalCoinSwap.

Find out why more crypto traders every day are moving over to LocalCoinSwap. Start trading Dash, Bitcoin, Ethereum, and several other popular cryptocurrencies using a P2P exchange that grows with you. Whether you want to top up your Dash wallet or sell Dash for cash or any other payment method, P2P trading is the answer.
Sign up and get trading fast with LocalCoinSwap and get in and out of local or foreign currency with ease.
---