We are very happy to announce that the LocalCoinSwap (LCS) CryptoShare token has been added to Blockfolio Signal Beta.
Blockfolio is the #1 free crypto portfolio management app supporting over 6,000 cryptocurrencies. The application's latest feature, Blockfolio Signal Beta, has just launched and, with the integration of LCS, we will now be able to provide LCS users and community members with the latest company updates directly from the leadership team.
Blockfolio Signal Beta is an exciting addition for LocalCoinSwap as it will allow us to broadcast messages (Signals) directly to anyone holding or watching our LCS Cryptoshare token in the Blockfolio app. Not only can we engage with our community on a whole new platform, but it also allows us to send push notifications for timely and high priority news directly to your device, no matter where you are in the world.
This is an important move for LocalCoinSwap as it will give us a new way to announce new tokens/coins listed on the LocalCoinSwap platform along with timely updates related to new website features and news announcements that impact our community.
To receive LCS news and announcements via the Blockfolio Signal Beta app, simply:
Download the Blockfolio app from the App Store or get it on Google Play
Click the '+' icon to go into your main portfolio
Use the search field to search for either 'LocalCoinSwap' or 'LCS'
Tap LocalCoinSwap Cryptoshare (LCS)
Tap the 'Watch' button.
Once you return to the main menu in the app you will see that LCS has been added to your portfolio.
You can then click on the LCS listing to view details of the project and if you scroll to the bottom of the page, you will see news and announcements from us.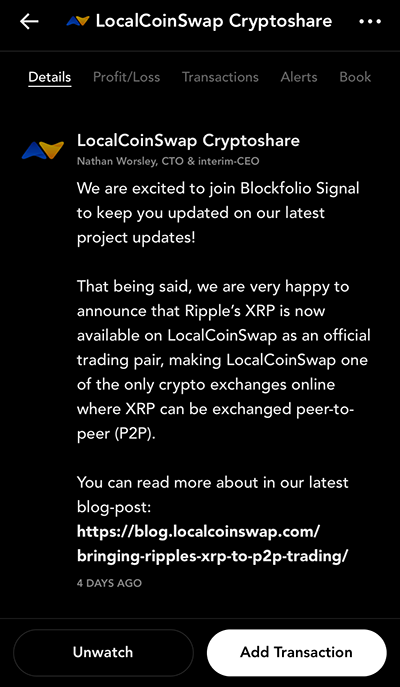 Don't forget that you can start P2P trading today on the LocalCoinSwap exchange. All you need to do is visit the site and set up your account!
---