At LocalCoinSwap the roadmap and initial idea was to incorporate the top 10 cryptocurrencies as a base point with an additional 10 added to that list during and just after the end of the ICO. The initial MVP soft launch is being worked on non stop with the incorporation of more cryptocurrencies as well as major updates and community input suggestions. The developer team have been doing a stellar job at keeping good on their promise to try their level best in delivering weekly updates (scheduled each Monday). I am here to talk about one part of the full update. As you might glean by the title we have some great news.
That's right two new major cryptocurrencies can now be traded directly for fiat with your favourite exchange LocalCoinSwap! We now have trading options for Bitcoin Cash (BCH) and Ethereum Classic (ETC). Many members have asked for these two major players withing the crypto space and this will surely help our exchange as those two respective listings have a strong and dedicated following!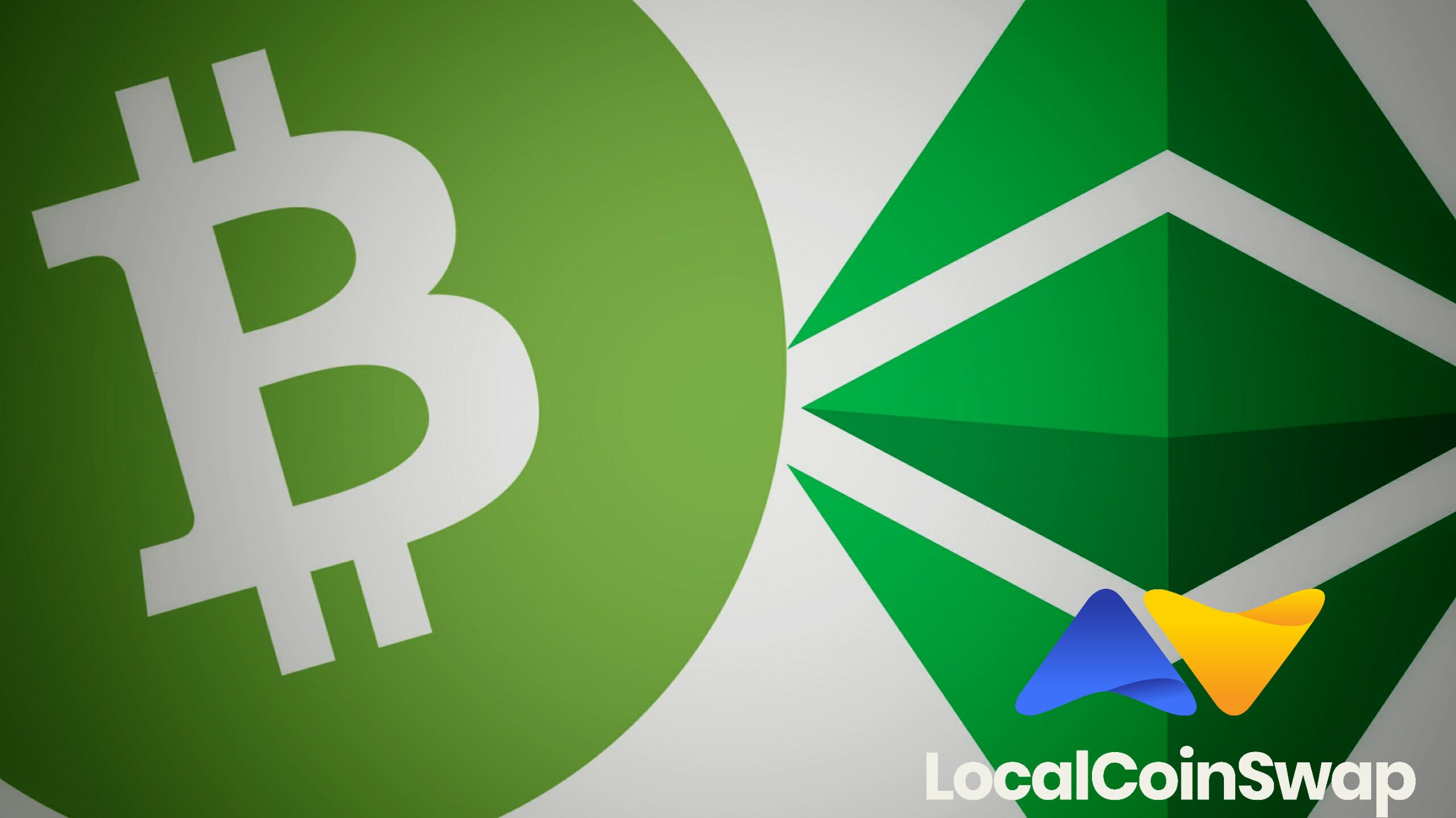 Bitcoin Cash went live in August 2017. It is one of the most successful forks from the original (BTC) Bitcoin chain. It's major difference to Bitcoin was that Bitcoin Cash increased the size of blocks from 1Mb to 8MB. This was done as a way to facilitate more transactions to be processed. Bitcoin Cash is driven to increase the amount of transactions it can handle per second and become a rival to the likes of PayPal and Visa. Should this be achieved it will be another win for cryptocurrencies as a major contender to toppling the use of historic fiat based systems.
Ethereum Classic (ETC) is the first, original (legacy) chain of which Ethereum (ETH) originated after a hard fork. The hard fork took place in 2016 after a major vulnerability to the DAO, a decentralized pooling fund was taken advantage of with a $50 million attack at the pricing of the time. The resulting contentions of how to deal with this is what caused the hard fork, taking a lot of the original core developers. However that isn't to say Ethereum classic was left to the wayside. It retained its fair share of heavy hitters and developers and still enjoys a vibrant, positive community with work and continuous efforts being made to make it one of the major contenders in cryptocurrency.
The DEV team have worked very hard and will continue to do so in adding more cryptocurrencies to our exchange, giving more freedom, more choice and most importantly more inclusivity. I think it is fair to say here a big thank you guys for everything you are doing. Together we will all trade better, lets welcome these new listed communities with open arms and show them what LocalCoinSwap is all about!
---