If you've started getting more involved in cryptocurrency and branched out from just buying and selling bitcoin, you may have found it a little more challenging to keep track of the values or your various altcoins, ethereum tokens, and monitor the value of your entire crypto portfolio. However, you aren't alone, and thanks to this common problem software developers have responded with a range of options to assist cryptocurrency investors and those that just want an easy way of monitoring short or long term cryptocurrency holdings. Whatever type of cryptocurrency speculator, trader, or consumer you are you're likely to find something in this list that will suit your needs. Read on to find out about some of the best crypto portfolio trackers.
What is a Crypto Portfolio?
Like a stock portfolio, a cryptocurrency portfolio represents the range of digital assets (such as bitcoin or ethereum) that you may own. If you own a variety of cryptocurrencies, it's quite common to refer to these as your crypto portfolio. There is a wide range of reasons why you'd want to diversify your crypto holdings and many reasons for you to choose to stick with just a portfolio containing one main asset, the choice is yours what your portfolio consists of at the end of the day.
What is the Best Crypto Portfolio App?
There are a growing number of options, each with slightly different features and support for various platforms, so what may be the most suited to your needs could be very different to other crypto traders you know. Let's look at providing an overview and quick review of a few popular crypto trackers and see if we can find the best portfolio tracker for you to add to your crypto toolkit.
Delta
While you may have been expecting to see Blockfolio make the first mention, it's easy just to stop there and assume it is the best option as it the most well-known app for portfolio tracking. However, thanks to maturing options like Delta, Blockfolio isn't just the go-to for traders anymore. With Delta, you can monitor the cryptocurrency market, keep up to date with cryptocurrency and bitcoin news, and track your crypto holdings all in the same place. While there are some limits on what you can do without opting to become a Delta Pro user, this is one option that shouldn't be ignored when looking for cryptocurrency portfolio trackers. What was once the new kid on the block for portfolio trackers has evolved into quite the sleek looking and fully featured portfolio tracker. With Delta, you can connect to various crypto wallets and exchange APIs which allows you to track your holdings across multiple trading accounts automatically. As they support over 7000 cryptocurrencies, you are unlikely to have too much trouble finding what you want, though as always there will be exceptions with the crypto space as broad as it is these days. If you manage multiple portfolios such as one for your long term holdings and one for short crypto trades, you can also do this to help keep track of your profit and loss. Flexibility in portfolio trackers is something that is excellent no matter what sort of crypto trader you are and helps to ensure you will likely be able to monitor the metrics you require. Device sync is also a helpful addition for those of us that like to keep up with the latest devices or have a habit of breaking one here and there.

If you use Delta on a mobile device with either their Android or iOS app, you can also take advantage of their additional companion apps for the desktop, which is a really nice touch. The delta companion apps provide support for all major desktop platforms; macOS, Windows, and even Linux support which is always great to see. Worth noting though the companion apps are indeed companions and do require you to have one of the mobile apps and to scan a QR code to link them in order to use the desktop applications. A slight hitch I encountered while testing the desktop portfolio app was that I was unable to get it going without adding some holdings to my portfolio on Android first, would have been nice to be able to sync a fresh install, but this is just a minor thing. This minor inconvenience takes nothing away from this addition as it's great to see this mobile app to desktop app integration provided and working quite well.

If you are yet to check out Delta, give it a look. You may find it to be the best cryptocurrency portfolio for your needs. There's plenty to like and with frequent updates likely much more to come in the future.

Platforms: iOS / Android / Windows / macOS / Linux
Website: delta.app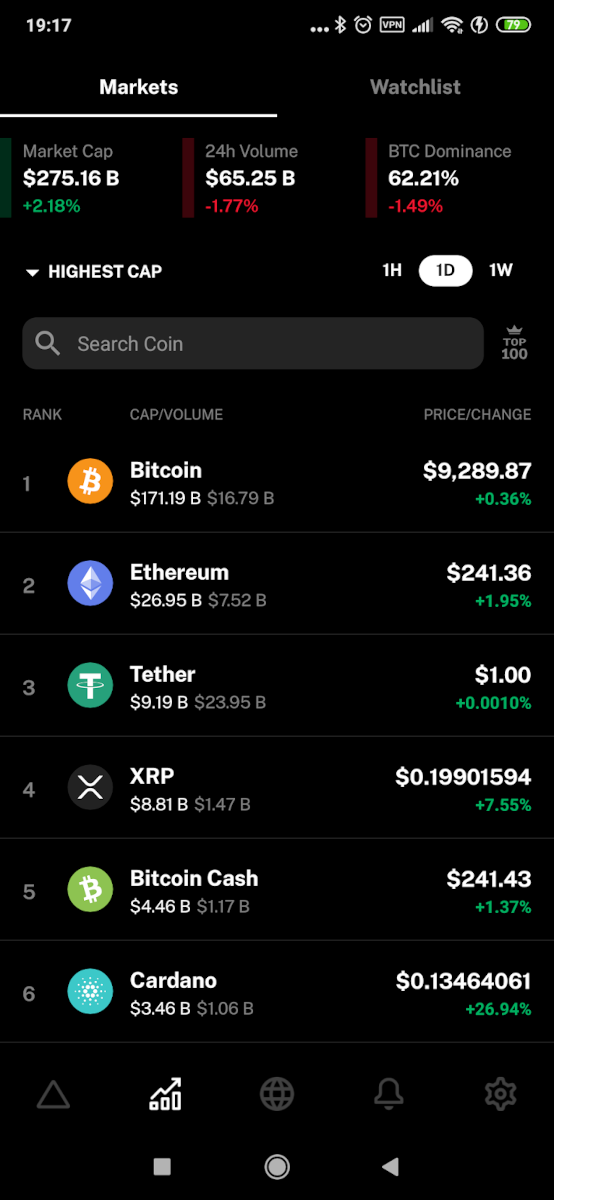 CoinStats
When opening the CoinStats app the first thing you are greeted with is an option to choose between dark mode or light mode, something personally I found rather appealing and immediately jumped at the opportunity to set dark mode without having to poke around in the settings. It's always good when you can avoid feeling like you've blinded yourself checking the price of bitcoin late at night while in bed. The user experience is quite nice on Android overall. It seems quite fluid to find the options you want as soon as you start poking around inside the app. While there are some ads here and there if you choose not to opt for the pro version, this is quite a par for the course for most popular portfolio trackers in 2020 and not something you can blame them for when they clearly put the work in to make their offering the best it can be. Among other highlights is quite a nice curated news feed which includes sentiment sorting for both bullish and bearish news, as well as a nice 24-hour report feature where you can quickly see interesting market movement inside out outside your crypto portfolio.

While CoinStats seems to lack a desktop app for portfolio tracking (at least at the time of writing), they do provide quite an excellent web app experience. They make it quite straight forward to sync your hardware wallet balances from either Ledger or Trezor devices, exchange accounts, various wallets, or just to add transactions manually as well. The inclusion of their web app was quite a nice touch and makes this a tool that you can better integrate into your day to day trading no matter what device you are using at any particular time. Even if you are merely looking for an alternative to track cryptocurrency and bitcoin price, you may find their web app an attractive alternative to CoinMarketCap.

A great contender and one that will suit many people that are looking for both a fully-fledged mobile portfolio tracker and one to use on other devices with the web app that is also provided. A great contender as well for potentially the best crypto portfolio tracker of 2020.

Platforms: Android / iOS / Web App
Website: coinstats.app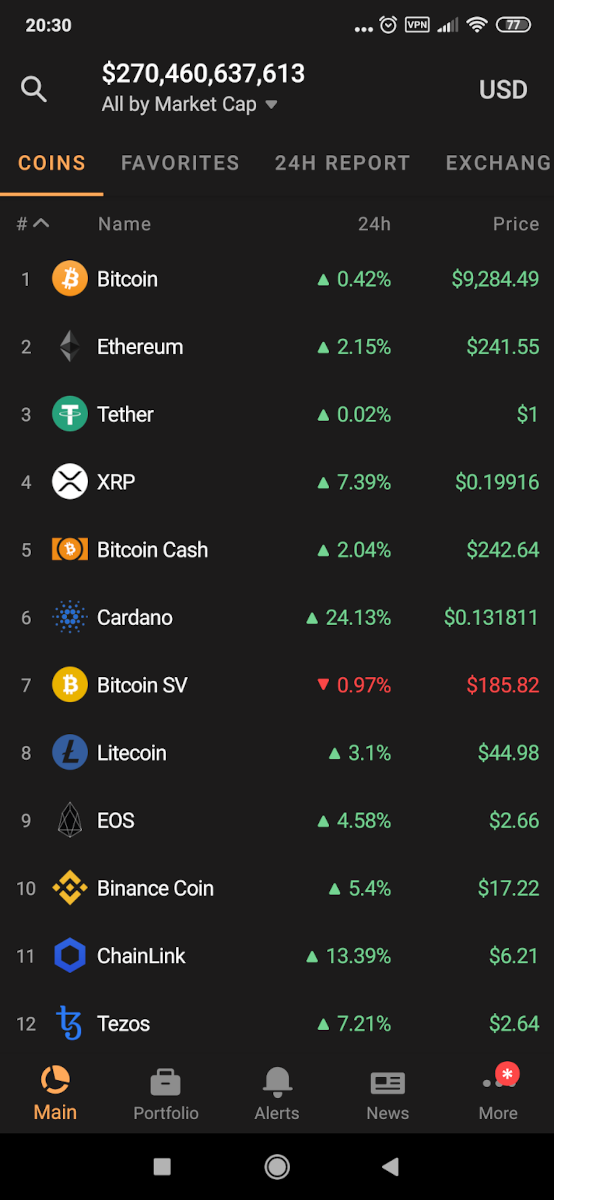 Blockfolio
If you've heard of a single one of the crypto portfolio trackers available it's likely to be Blockfolio, primarily as when it was initially launched it caught on quite heavily. Being one of the longest-running contenders for the best portfolio tracking apps, it has stood the test of time. While interestingly they haven't decided to spread their wings into the desktop or web app space, they do provide a very solid Android and iOS experience which is one of the reasons Blockfolio is still a popular choice and often recommended portfolio tracker to new crypto traders. They boast more than 6 million users, support for 10,000+ cryptocurrencies, and provide data from 500+ plus exchanges. Hence, if you are having trouble finding one of your more niche tokens or coins on other trackers odds are Blockfolio may be able to help you find it.
One thing I've always found a little odd about Blockfolio is with a fresh install it provides a few defaults in your main portfolio, something which probably isn't necessary, though a small gripe and something that is hardly an issue. You can find a lot of information provided in their Signal service where you can find development updates and move with a quick swipe. Exchange connections are also supported so you can pull your entire crypto portfolio data from various crypto exchanges.

Interestingly Blockfolio now includes support for Slack integration, and this allows you to see updates from various crypto projects in your portfolio straight in Slack. You can also take advantage of price checking functionality in Slack as well, which is a handy little addition and excellent to see from a project that has its sights firmly set (so far at least) on mobile-first focus. If you are looking for the most feature-filled and platform inclusive approaches to portfolio tracking, you may not find it here. However, it's hard to ignore this mature option has developed into one of the best options for managing multiple portfolios on your iPhone or Android devices.

Website: blockfolio.com
Platforms: Android / iOS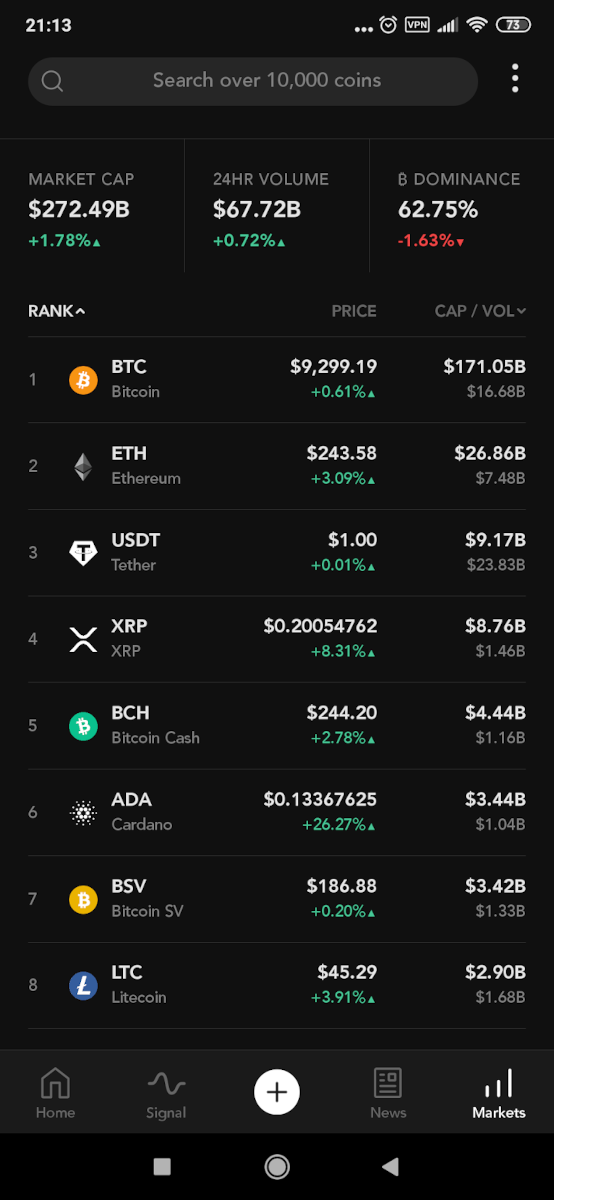 Portfolio Trackers Overview and Conclusion
If you are having trouble deciding on which is the right option for you, have a look around there are many more that aren't included in this list so it may just be a matter of finding something that fits your needs just right.
One newer app that takes things a step further is Good Crypto. This app focuses on offering you the ability to interact with a wide range of exchanges via their APIs allowing you to execute orders across your accounts all from the one app. It doesn't miss out on price comparisons and tracking your portfolio either. Available on multiple platforms, well worth a look!
When it comes to crypto tools like portfolio tracking apps, your preferences are what makes any particular app the best. If you are someone (like many of us in the crypto space) that is prone to frequently checking their crypto portfolio, make sure you choose something you find nice to use. Ensure it can provide the features that you want but is also easy to use. Better yet, something that also looks aesthetically pleasing can make frequent checking a more pleasant experience. Thankfully all three of the portfolio trackers that were included in this list tick most of those boxes, so you are likely to find something that suits you well.

If you are looking to add some more cryptocurrency to your portfolio, this is something we can help with at LocalCoinswap. With P2P trading, you can trade your way. Get started today and enjoy the freedom and increased privacy that is afforded to those that choose P2P trading to increase their portfolio size and expand their crypto horizons.

Visit LocalCoinSwap.com, and you can start stacking more sats in your wallet or add other digital assets you may not have gotten around to acquiring quite yet to your portfolio.
---