EcoCash has now been added to LocalCoinSwap for the trading convenience of our users. Using EcoCash, you can buy and sell Bitcoin, Ethereum, and many other cryptocurrencies peer-to-peer (P2P) in more than 190 countries worldwide with access to over 300 payment methods!
Among other perks, LocalCoinSwap doesn't have withdrawal or deposit limits, and most notably, you are NOT required to deposit crypto to the LocalCoinSwap platform to create SELL advertisements. This allows you to create multiple trade offers with larger amounts to gain more profit with less risk and peace of mind.
Ecocash is a mobile phone-based money transfer service that operates in Zimbabwe. EcoCash allows opening a bank account via mobile phone without needing to go to the bank or fill out bank opening forms. With EcoCash, users can conduct financial transactions directly from their mobile phone, send remittances, pay for goods and services, and much more!
But unfortunately, the recent financial regulatory restrictions in Zimbabwe restrained cash-in and cash-out transactions for Zimbabweans. So LocalCoinSwap, the most popular non-custodial marketplace connecting people from around the world, is happy to announce EcoCash as a new payment method. And for now, this P2P BTC method may be the only way to override capital controls and restrictions imposed on Zimbabwean citizens.
In this short tutorial, we will explain how you can buy bitcoin using EcoCash as a payment method. Generally, there are two ways you can do this. Firstly, you can search for others selling bitcoin on LocalCoinSwap with EcoCash as a payment method. Secondly, you can create your own trade offer letting others know that you want to buy bitcoin using EcoCash, promote it across different channels and attract buyers.
Let's look at how you can do the latter…
STEP 1:  Register or Sign in into your LocalCoinSwap account.
You can create your own account on LocalCoinSwap in just a few moments, sign up is fast and private.
Go to LocalCoinSwap
Press the 'Register' button to create an account
Enter your email address and choose a secure password.
To verify your email address, you'll need to sign up by clicking on the verification link in the email that will be sent to you.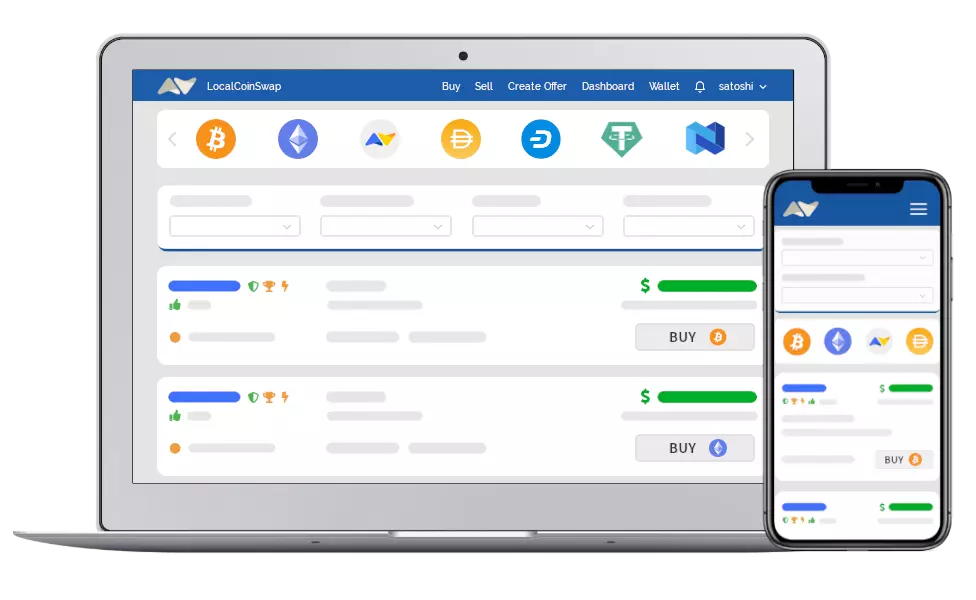 STEP 2: Create an advertisement to buy bitcoin with EcoCash
Now you can create a trade offer that will be shown to other users and tell them that you want to buy bitcoin in a specific area using EcoCash as a payment method. So let's dive into it.
Select 'Create Offer' on the main page in the top menu.
Select 'Buying'
Select the cryptocurrency you want to buy; in this case, for example, you want to buy bitcoin.
Select the location in which you want to advertise your trade. Remember that your offer will also be visible when selecting the 'worldwide' filter, so users from other areas will also be able to sell you bitcoin if your expectations are met.
Then select a fiat currency you want to use for your trade. You can go for the US dollar in this case, as it's the most commonly used currency in Zimbabwe.
Select EcoCash as a payment method.
Set the limits of your trade. Limits indicate to bitcoin sellers the smallest and largest amounts of bitcoin you're willing to buy.
The following section will allow you to set your price. Selecting "Market price" will allow your ad to increase with the value of bitcoin.
Add the terms and conditions of your trade advertisement. We recommend mentioning enough information and being as transparent as possible with other traders, as more people will be willing to sell their bitcoin to you if they understand your expectations or your terms of trade.
Set the hours when you are available to trade, so traders will know when to contact you, and you will not miss a trade.
And the final step - click 'Publish trade.' Now your ad for buying bitcoin with EcoCash is live on the LocalCoinSwap marketplace and available for other traders to find.
Once you've created your BUY advertisement and have it live, you can start promoting it across different channels and social media platforms to attract sellers.
STEP 3: Promote your ad to bring bitcoin sellers to you.
By sharing the URL of your ad, you can promote it to other crypto sellers and inform them that you want to buy bitcoin using EcoCash in your local area or worldwide. There are many channels where you can share your BUY advertisement to traders, such as Facebook, Discord, Reddit, or Telegram groups. To find the right seller, you could also retweet the trade offer on Twitter alongside related hashtags.
That's it! You've just learned how in 3 easy steps, you can register your account on LocalCoinSwap, create an ad to buy bitcoin with EcoCash, and promote this advertisement to other crypto traders across different channels.
Join LocalCoinSwap today and start making money buying and selling bitcoin within your local community!
---