If you are interested in blockchain technology and following exciting projects in the cryptocurrency space, you've likely heard of Kusama. However, if you are also someone who values their privacy and maintaining control of their cryptocurrency, you may have found it hard in the past to find a place to buy KSM that suits your values.
Find out how you can buy Kusama, maintain your privacy, and get involved in the latest in blockchain technology.
The Best Way to Buy Kusama is P2P
When you buy or sell cryptocurrency and other digital assets, you have a range of options at your disposal. While many of the centralized order-book style exchanges on offer can seem appealing, they do come with many inherent downsides. However, when trading peer-to-peer, you can exchange cryptocurrency anywhere in the world, with a vast range of fiat pairings, and just about any payment method you could want. The problem is when trading Kusama P2P you don't have a massive range of options, but that's ok, thanks to LocalCoinSwap providing a fantastic choice for any trader.
Trading KSM P2P on LocalCoinSwap
When you wish to purchase KSM P2P LocalCoinSwap can help. Not only does the exchange provide a vast range of payment methods and fiat pairs, but it also provides the non-custodial trading of KSM. Trading Kusama (KSM) on a non-custodial exchange gives you more peace of mind. There's no need to worry about the exchange going offline when you can export your seed words at any time.
The Benefits of Trading KSM P2P
Access to traders worldwide
Set your own terms
Use hard to find payment methods
Avoid custodial exchanges holding your KSM
Full control of your KSM wallet
Buy Kusama (KSM) with Cash
Trading P2P on LocalCoinSwap allows you to exchange KSM with hard to find payment methods like cash. Trading KSM for cash makes Kusama available to even those without access to traditional banking and allows anyone to get involved in the digital currency space. No matter what your situation, everyone should have access to cryptocurrency, and through P2P trading, more people around the world can choose for themselves how they want to trade and under what terms. You can also convert your KSM to cash or other payment methods when trading P2P just as easily.

Non-Custodial Kusama (KSM) Web Wallet
Using LocalCoinSwap allows you to trade P2P but also provides you with a user-friendly web wallet as well. When using the free to use KSM web wallet that comes with your account, only you can access your seed words. At any time, you can sign in to your account and export your seed words to import them into another KSM wallet of your choosing or to backup for safekeeping.
You can easily send and receive KSM with the web wallet allowing you to use it for trading or just use it to store and manage your KSM. There is also a QR code provided, making it easy to send money from KSM mobile wallets.

Make Money Trading KSM by Becoming a Vendor
With in-demand cryptocurrencies like KSM, you can make your trading profitable by providing services to other traders by creating offers on LocalCoinSwap. If you offer less common payment methods like cash-in-person or even something like local bank transfer, you can help provide more people access to KSM trading and make a percentage profit on each trade. What margin and terms you set when trading P2P is up to you, so this offers you the flexibility to explore many ways to trade KSM with people all around the world.
You can also trade other cryptocurrencies like ethereum and bitcoin so that you can exchange multiple cryptocurrencies on the same platform. Becoming a vendor on LocalCoinSwap allows you to create a profitable side hustle, make money with cryptocurrency, increase your trading profitability, or even create a trading business for yourself.
Many P2P traders worldwide have created profitable and consistent trading businesses by providing a good range of payment methods and being responsive and quick traders.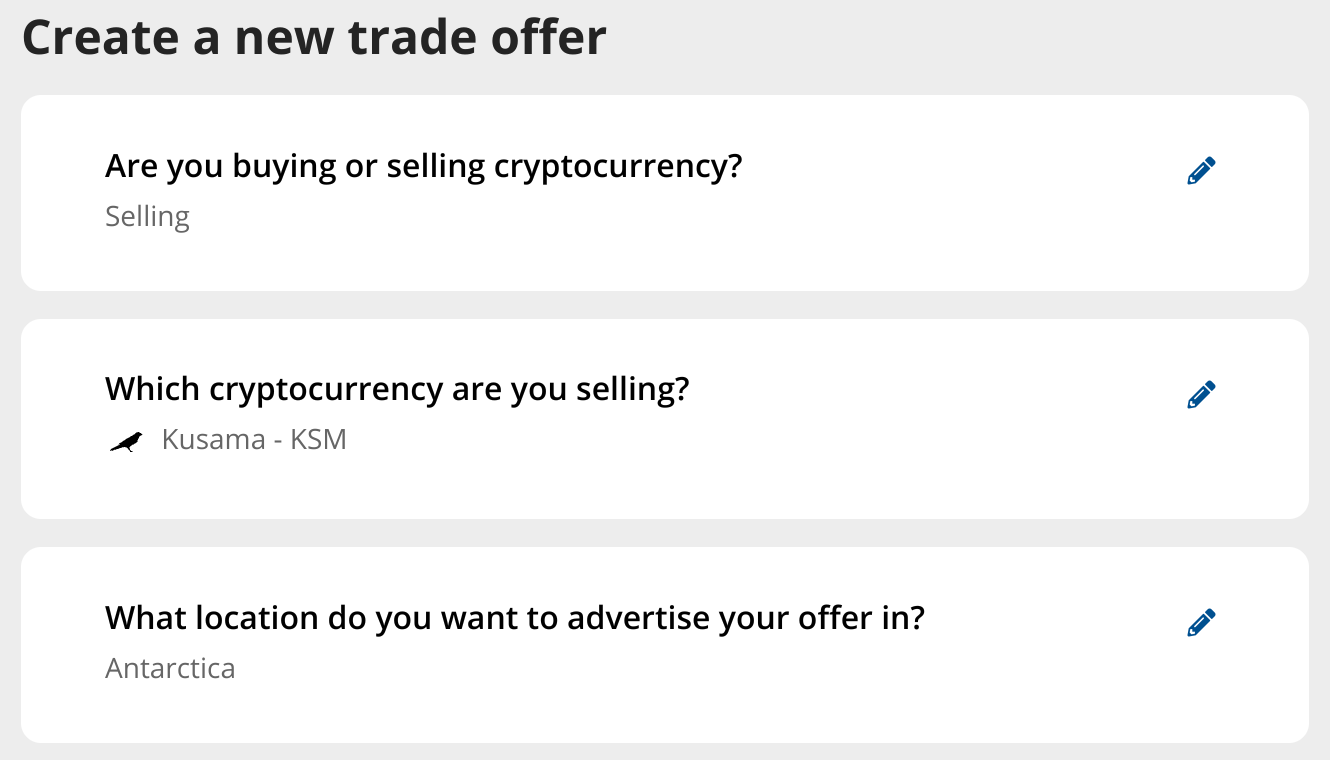 How to Trade KSM with Specific Payment Methods
Get started by registering your account on LocalCoinSwap.com
Select Kusama from the carousel or the cryptocurrency dropdown
Use the search filter to select a payment method of your choosing
Optionally set a location and other variables to help filter the results
Initiate a trade, or if you can't find a suitable offer, you can create one yourself in seconds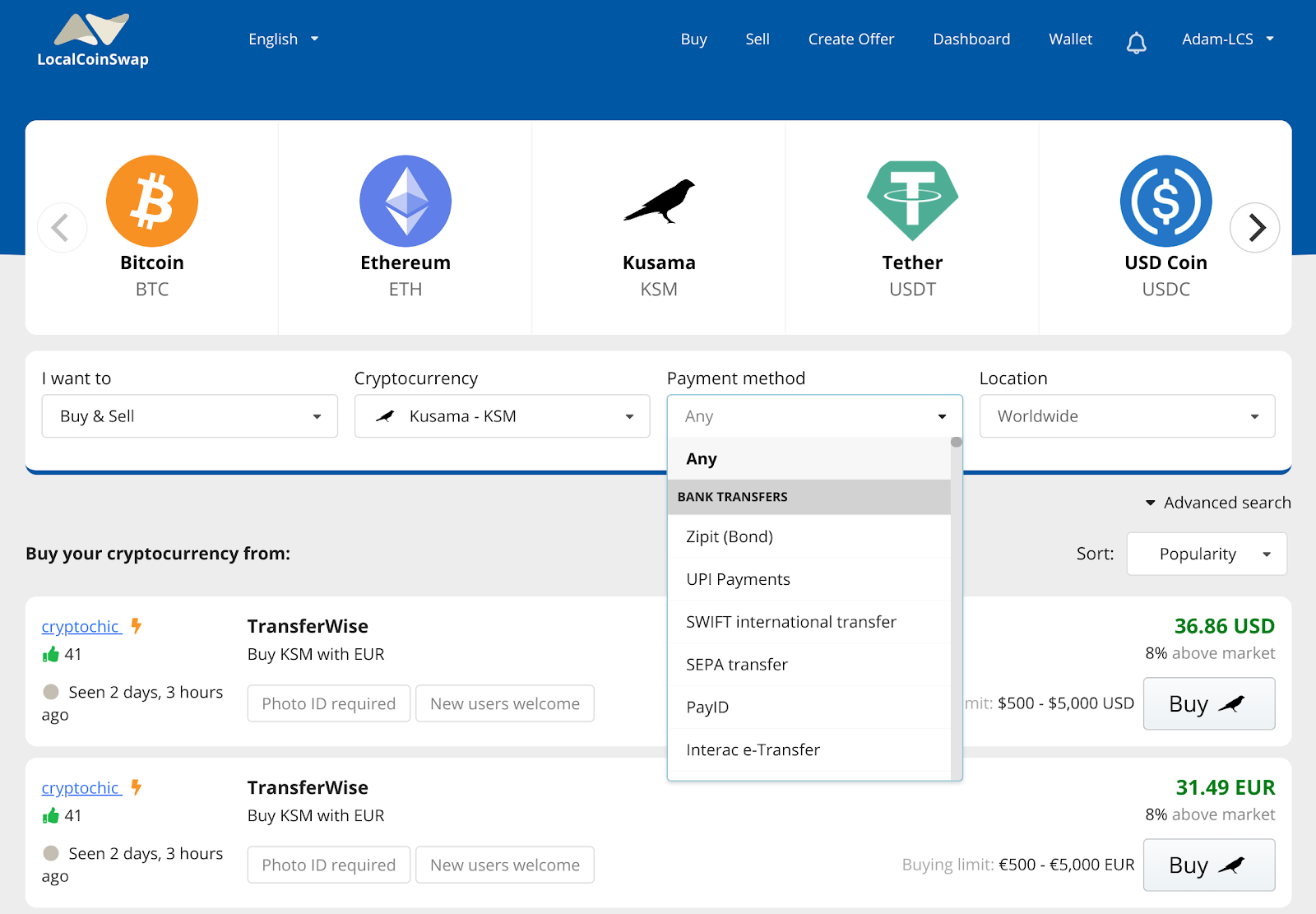 Staying Safe While Trading KSM
When using the LocalCoinSwap P2P exchange to trade KSM, you have the advantage of the provided escrow system. One of the best ways to ensure you are trading safely is to use the escrow system as recommended. When using the escrow system during a KSM trade, the cryptocurrency is locked until payment has either been confirmed by the seller, or a dispute is raised. In the event of a dispute, a moderator will step in and review the issue and release the KSM to the correct trader.
During a trade, you will be able to monitor the trade timeline, which shows the current state of the trade. The critical thing to remember is never to send payment before the escrow has been funded, which the status of will be clearly visible during trades on LocalCoinSwap. As a buyer, provided you agree and follow the trader's terms, you will receive your cryptocurrency as expected.
Trading P2P can be easy and is a great way to directly engage with other traders making the experience more personable. For more information on staying safe while trading KSM P2P or any other cryptocurrency on LocalCoinSwap, check out our article on how to stay safe while trading P2P and see how straightforward it can be.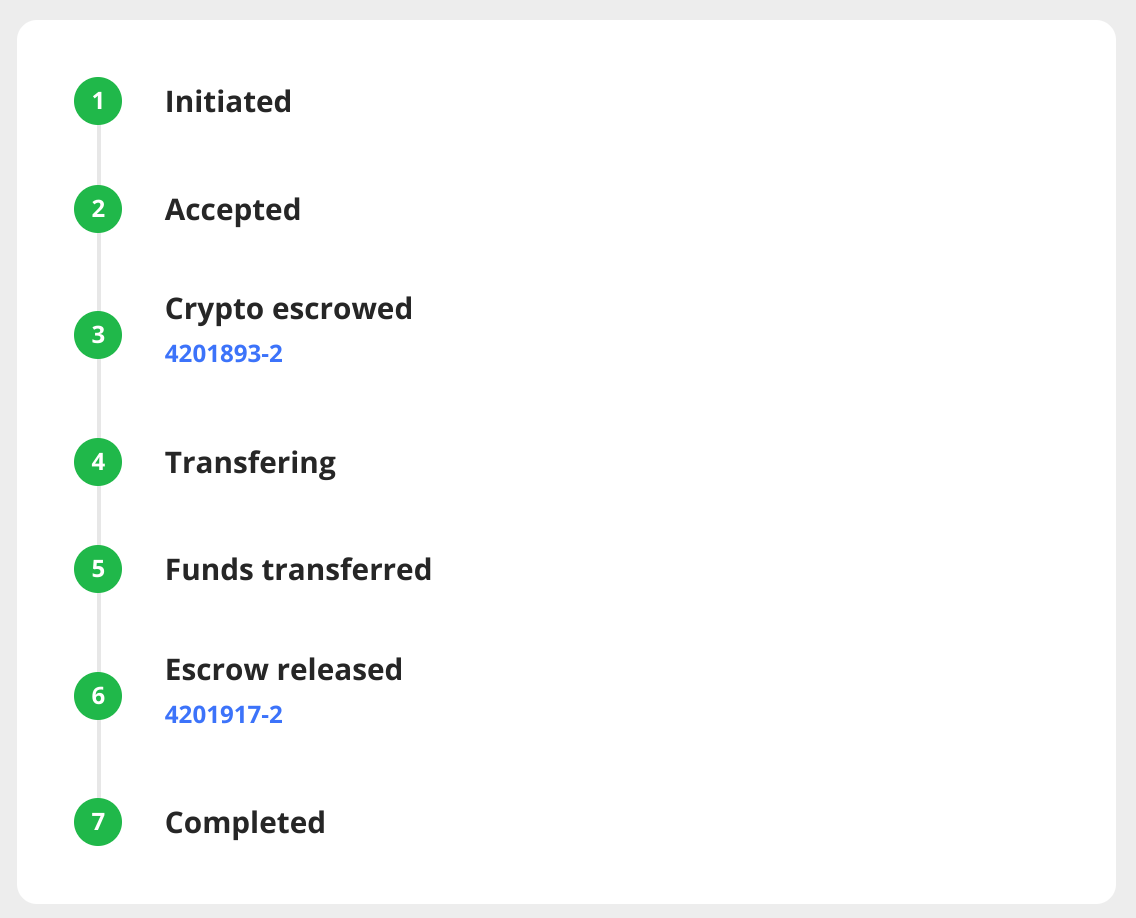 Trade Your Way
Whether you just want to sell some of your KSM gains occasionally, convert KSM to cash, become a vendor, or just about anything else related to KSM exchange, LocalCoinSwap can help. Start trading P2P today and find out why it's still one of the most popular ways to trade cryptocurrency. You can also delve into the multi-custodial trading of bitcoin, trade ethereum, several ERC-20 tokens, and Dash.
Become a part of our growing community on Telegram, follow us on Twitter for more articles like this, and get started trading KSM, BTC, ETH, and more with LocalCoinSwap.
---